Working With A Diverse Population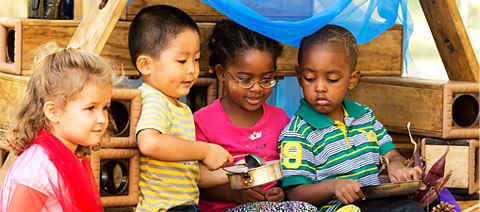 The value of diversity in schools now goes beyond being a social goal. The make-up of the student body in the USA is changing rapidly. The increased linguistic and cultural diversity in the American classroom is a reality that many educators feel compelled to address. This is a nation of diverse populations and groups.
The opportunity for communities to be knowledgeable about languages and cultures was outlined a decade ago by the President's Commission on Foreign Language and International Studies (1980):
Our future depends on the ability of our society to talk with one another, to reach mutual understanding and realize that there is strength in diversity. If we are ever to achieve a culture of inclusiveness, the kind that empowers all human beings, we must begin with the young. It is worthwhile to instill in them a sense of belonging to a community as early as possible in life. Teachers who have children of different cultures in their classrooms should always be cognizant, and respectful of the uniqueness of their student population. In working with families from diverse cultural backgrounds, there is a fundamental need to develop sensitivity, understanding, awareness, openness and flexibility in our dealings and relations with our students.
We cannot control what goes on in homes, but we must actively work to make inclusiveness part of the public place, especially in our schools and libraries. It is vital that we ensure that 'other' cultures are respected regardless of origin, religious beliefs, sexual orientation, class, gender or race.
Three threats to children's cultural development:
lack of culture
hostility towards culture
role models who do not care about culture
It is therefore important to increase cultural awareness among adults, because children are completely dependent on how adults form their cultural environments and how they carry on their traditions. Children form their cultural identity depending on what they encounter: language, human contact, experiences, attitudes and values. They will then in turn pass this on to the next generation.
In 1989/90, the countries of the world signed The UN Convention on the Right of the Child, which emphasizes children's and young people's right to participate in cultural life. This should include creative schools that provide communicative skills. Cultural heritage can be strengthened through books and libraries. There is the inherent risk that indigenous populations and minorities will have their languages and culture repressed by schools and obliterated by the international cultural industry. The UN Convention on the Right of the Child is very clear on this: children belonging to indigenous populations or ethnic, religious and linguistic minorities may not be discriminated against. They have the right to their language, religion and cultural life.
Here are some hints for teachers:
Take the initiative to make contact with the "outsider", the "foreigner" even if language is a problem at first.
Show respect for their culture and language. When one is in a foreign land, culture shock is intense. This is especially so if they do not speak the predominant language.
Pronounce names correctly. Everyone is proud of his or her name, no matter how "foreign" sounding.
Be sensitive to their feelings about their homeland. No matter how poor, or under-developed someone's country is, it is still their home.
When speaking English, speak clearly so that they can easily follow.
Be yourself! People can easily tell if you genuinely want to help.
Take time to listen. Ask questions if you do not understand.
Organize the physical environment to reflect the diversity of cultures in the classroom.
Provide many opportunities for children to communicate.
Encourage and accept children's attempts to communicate since errors are a normal part of language.
Accept the premise that children are members of diverse family and community systems bringing multiple gifts of language, culture, wisdom and learning.
About the Author
Jane Kamau
states the following:
I am Kikuyu from the central part of Kenya. I came to the United States of America to go to school, and I have a M.Ed. from the Johns Hopkins University in Baltimore, MD. I am adjunct Faculty at the Community College of Baltimore County.
I have extensive experience in Early Childhood Education. Literacy, especially for young children, interests me very much. I spoke my mother tongue Gĩkũyũ, and Kiswahili, Kenya's official language, before I went to first grade. It was in Gĩkũyũ that the power of the written word was revealed to me.
Having gone to school in a part of Kenya that is far from my home, and because of my experiences abroad, I believe strongly that it is important for First Languages to be preserved. First Languages are repositories of culture, history and a sense of community, which helps with cultural transitions and validates one's sense of worth when there is a predominant culture. I have been working to promote both literacy and culture, and I recognize that adults play an important part in children's language acquisition.
One way to do it is through cultural immersion. We use our language to communicate and to pass down stories, values and the customs of our people to future generations. Thoma is such an attempt. We have reading material for children in Gĩkũyũ. The response has been positive and we are very encouraged.