The Maple Street School
April 30, 2019 • Brooklyn, NY
Located in Brooklyn, NY, Maple Street School is a parent cooperative preschool emphasizing family involvement and connection to the community. Setting up at a new location two years ago was an opportunity to intentionally create an environment in their classrooms that would serve to foster a sense of family and community. In this interview staff members explain how their choice of furniture supports this vision.







"We don't have a large budget; we are a parent cooperative. We believe in investment. It's important to us that our things are going to last. And, we use things pretty hard, we are very roly-poly, artistic people, and rough on the things that we have. We really needed to invest, because we can only take out all those loans one time."

Jennifer Smith, Program Director, Maple Street School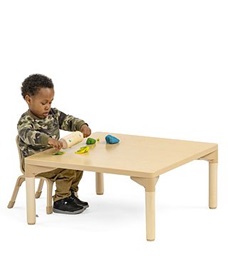 Classroom Tables
These solid no-nonsense tables are designed to stay put while hosting the whirl of daily activity. Easy to clean surface is laminated on both sides with heat sealed edges to prevent warping. Choose from adjustable (tool-free) or solid legs.
View More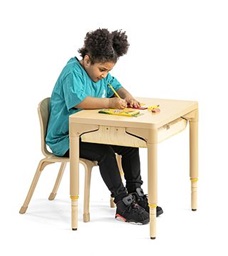 Desks
An antidote to the standard institutional look, these desks invite children to learn, discover, and explore. Comes fully assembled, all you need to do is rotate the legs into place. Choose from solid wooden or adjustable (tool-free) legs.
View More