Ten Outdoor Winter Activities

Enjoying the outdoors is not limited to the summer months. Winter offers a host of thrilling activities and adventures for children. Wearing appropriate clothing is key to being able to enjoy the winter weather so make sure the kids are bundled up to keep warm and dry.
Here are 10 activities to get children inspired and moving when the world is cold and white:
1. Shovel snow.
Simple ideas are sometimes the best. Nothing inspires children like a "work project," and snow can provide a wonderful outlet for extra energy. Shovel paths in the yard, or even a whole area of the yard so you can play a game. All you need are some sturdy child-sized shovels and enthusiasm. Add a wheelbarrow or wagon for hauling, and you'll have a wealth of cooperative and imaginative play!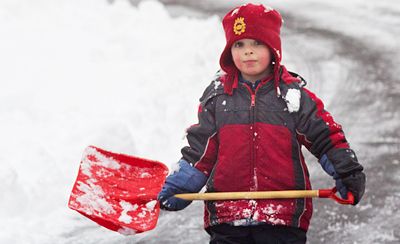 2. Build an igloo or fort.
Here's another group project, with plenty of opportunities for hearty exercise, working together, and creative play.Tote pans packed with snow make wonderful building "bricks." Or, make a fairy castle, using snow packed into interestingly-shaped containers such as Jell-O molds or Bundt pans.
3. Create a snow sculpture.
Why is it that everyone always makes snow men? Why not snow creatures, snow dinosaurs, or snow cars? The possibilities are limitless! Use natural materials such as sticks, pebbles, or leaves to add details. Fill a spray bottle with diluted food-color to "paint" the creations. If the snow is too fine for sculpting, try drawing pictures in the snow with a stick. This is "process art" at its best.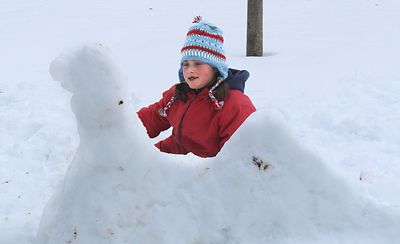 4. Observe birds.
Once you start bird watching, you'll be amazed how much can be learned by observation. Put up a bird feeder outside your classroom window. A tree near the bird feeder gives the birds a safe place to hide, and you'll find they stick around. Brave little chickadees can be lured to your hand with some sunflower seeds. Borrow a few bird books from the library and keep a list of all the birds you see. You could even make some binoculars to extend the project into your art or dramatic area.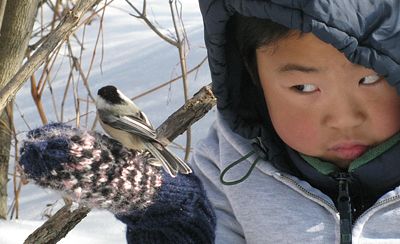 5. Tracking.
Teaching environmental responsibility and a love for the natural world starts very young. Identifying and following animal tracks in fresh snow is a great way to teach children the skills of scientific observation as well as providing a positive incentive to get outside when the snow might not be deep enough for other activities. Without needing any materials, following tracks can be as exciting as a game of hide-and-seek or playing detective! Which animals are active in your location during the winter months? You may be surprised at what you discover.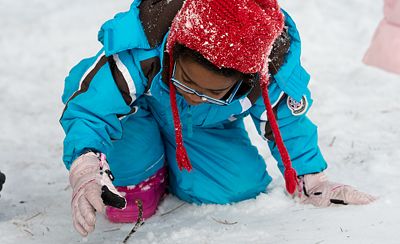 6. Learn about snowflakes.
A life-long love of nature can start with something as simple as observing snowflakes. Catch falling flakes on black paper and study them with a magnifying glass (hint: Cold paper helps flakes last better, so keep some in the freezer ready for a snowfall). Learn about Wilson Bentley, the famous photographer of snowflakes (try Snowflake Bentley, by Jacqueline Briggs Martin). Or children may enjoy making their own out of coffee filters.
7. Play tag.
One of my favorite childhood memories is playing tag in the new-fallen snow. We'd tramp down paths, then play tag using only the pathways we'd made. Or we'd make a large hole in the snow, and toss snowballs in for a game of snow basketball.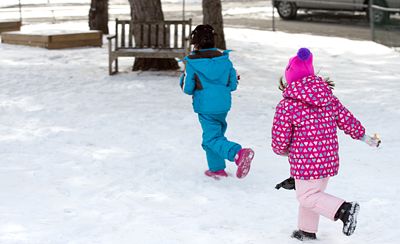 8. Snow pies.
Who said sand toys are just for sand? Bring them out in the snow and make a snow kitchen! Add sticks, pebbles, or other natural materials to decorate the confections. The menu will be unique and delicious.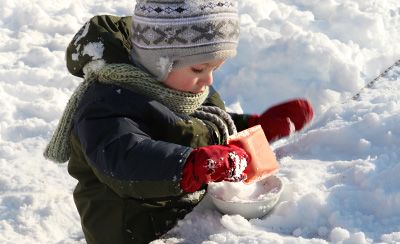 9. Nature walk.
The natural world of winter is amazing when observed with all the senses. Talk with the children about what they might see, hear, feel, smell, or taste in winter. Then, on your nature walk, ask them to point out interesting nature objects or phenomena. When you get back inside make a list of the things you noticed. Make pictures or find out more from books.
Sights: Shapes of snow drifts, colors in the snow (you'd be amazed!)
Sounds: Sound of the whistling wind, the quiet of the snow falling, roar of a snowplow
Feel: The downy touch of snowflakes, soft (or spiky) pine needles or the rough bark of a tree
Smell: Fresh-cut pine, wood smoke, cocoa!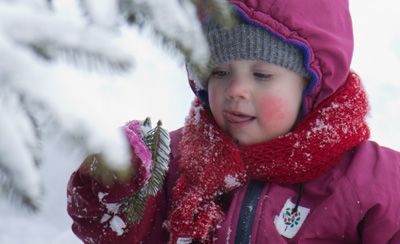 10. Winter scavenger hunt.
Make colored ice cubes by adding a few drops of food coloring to water. Hide them around the play yard and let the children hunt for them.
Any more ideas?
Add your thoughts below: