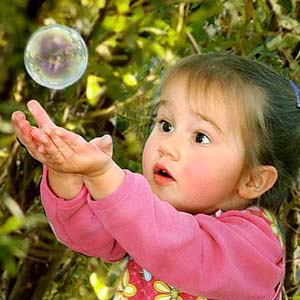 Science is Wonder
Posted by:
August 25, 2015
It is said that, on average, a four-year-old asks 437 questions each day. Whether or not this figure is based on accurate research, any preschool teacher can assure you that it is not too far out! Overflowing with an insatiable desire for knowledge, this constant questioning can easily grate on your patience.
Most of us can't explain why bubbles are always round, how a battery works, or how worms can hear if they don't have ears. But that's OK. It is much more important to simply encourage children to keep asking their questions about ordinary, everyday things, and then to help them discover their own answers.
In fact, simply handing out facts and theories too soon may inadvertently stunt a child's intuitive creativity and curiosity. "Giving children time and tools to explore the world around them allows them to be scientists," writes Mike Huber. The best way to teach preschoolers is to "inspire them to wonder." Read the article.