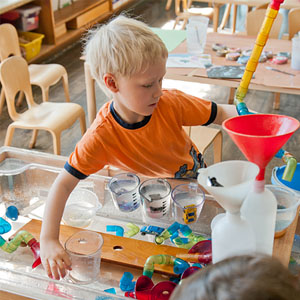 Inviting Learning
Posted by:
March 17, 2015
Learning doesn't happen sitting down—at least not when you're four years old! The preschool years should be ones of active, hands-on discovery and exploration. This requires a stimulating environment that offers choices to children, invites them to engage in a number of activities, and encourages them to explore a wide range of materials.
In Maria Montessori's philosophy, everything in a prepared environment should facilitate independent learning and exploration. The preschools of Reggio-Emilia refer to a well-designed environment as the "third teacher" in the classroom. Froebel maintained that when care is applied to a child's surroundings, behavior can be guided and inspired. The simplest of spaces can become a haven for play and learning.
It takes thoughtful planning to design an environment that is calm and well-ordered, yet at the same time full of activity and movement. Take a look at these sample activity areas. The careful selection and arrangements of furnishings is an essential step in creating an environment that invites learning.