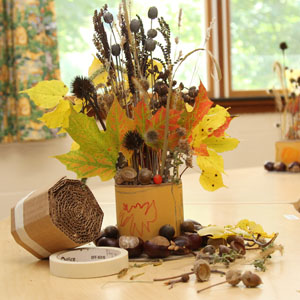 Making an Autumn Basket
Posted by:
October 13, 2015
When your children can't resist gathering dried weeds, grasses, seedpods, and colored leaves on your autumn walk, here's an attractive way to display their collections:
1. Cut a long strip of corrugated cardboard about 2" high with the ridges running up and down.
2. Roll the strip into a tight cylinder.
3. Hold the roll together with a rubber band or fasten with tape.
4. Decorate with paper, paint, felt pen, or crayon.
5. Insert the stems of your collected nature items into the holes made by the ridges of the cardboard.
This activity stretched out for over a week with our Pre-K class. Each day they found more treasures to add to their natural arrangements. Some beautiful fall leaves were the final touch before they proudly took their baskets home for a unique and beautiful autumn table centerpiece.