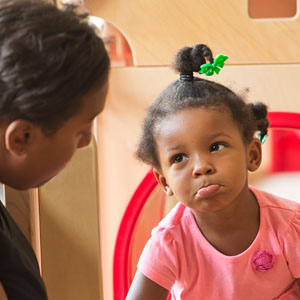 Responding to Challenging Behavior
Posted by:
January 5, 2016
The busy holiday season is over. Schedules are finally returning to normal. By this time of the school year your children should be familiar with you and your classroom routines. However, instead of a feeling of equilibrium and harmony within your class, you are noticing a sudden increase in challenging behaviors. Why?
"The changes in routine and increase in excitement associated with the holidays can cause stress for many children and families," write Jennifer Fiechtner and Kay Albrecht. "As a teacher, it's important to understand why children may experience regression in times of stress, and how you can handle these behaviors in ways that support emotional development."
The ability to regulate behavior and emotions is a vital developmental skill. Children need help to learn how to cope with intense feelings in a constructive way. In this article, the authors introduce effective strategies for teachers dealing with unacceptable behavior. Rather than merely manage discipline problems, you can use those inevitable disruptions to strengthen the social and emotional growth of the child. Read more.