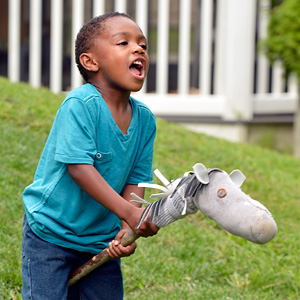 How to Make a Sock Horse
Posted by:
January 19, 2016
Which child hasn't wished for a horse to call their own? Stuff and attach a sock to the end of a stick, add some eyes and ears, and send your little cowboy out for a ride!
By now you should have received your 2016 Community Playthings catalog. Don't miss all the beautiful, new photographs of children at play! The cover this year features a glowing child astride a sock hobby-horse: a simple, but powerful, invitation to creative and active play.
You can easily make a sock horse, (or even a whole herd) for your class. Click here for instructions.