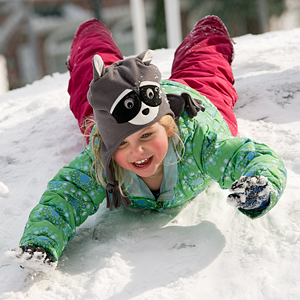 Making the Most of Winter
Posted by:
January 12, 2016
Chilling temperatures, gray skies, bitter winds—no wonder many of us are tempted to stay indoors during the winter months. Yet this season is an exhilarating time of year to venture out with your children. There's a myriad of winter enjoyments missed if you hibernate inside: Crunching through frosty grass, exhaling "dragon smoke" into the freezing air, following animal tracks in the snow, or sliding down a hill. Fresh air, sunlight, and physical activity—even if only for short periods of time—have countless benefits for children.
"There's no such thing as bad weather, only the wrong clothes", is the often quoted mantra of forest kindergartens, where children play outdoors all year round. Appropriate footwear and warm, waterproof clothing are key to being able to safely relish wintry weather.
So bundle up the kids and head outside! Here are ten winter activities that will get their hearts pumping and their cheeks glowing:
Read on
.