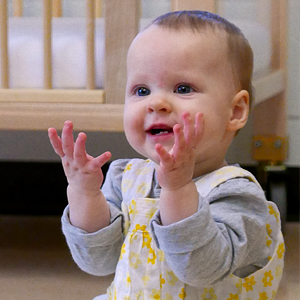 Seeing Children Do More with Less
Posted by:
May 22, 2018
"Imagine not offering babies any toys until they find their hands for play," writes Deb Curtis.
"My mind started spinning as I listened to Janet Gonzalez-Mena describe the approach used by the Pikler Institute in Hungary, where they have documented over 75 ways that babies learn to use their hands for play. This is such a different emphasis than what I often see in early childhood programs in the United States. Babies are regularly surrounded by colors and images on walls and fabrics, along with toys that beep, rattle, and flash.
"The story of the Pikler babies and their hands challenged me to rethink my practice. In my desire to give children all they need to grow and learn, am I giving them too much?" Continue reading.