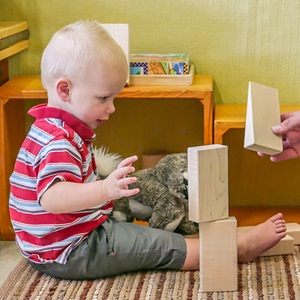 Guiding Block Play
Posted by:
October 9, 2018
"As an author of a book on block play, it was an obvious choice," writes Rosanne Regan Hansel. "For his first Christmas, I gave my grandson, Dagan, a set of wooden unit blocks."
But just being gifted a set of blocks (or simply having a block area in your classroom) isn't necessarily enough to promote a successful building experience. Parents and teachers hold a key role in supporting children's learning during play. Dagan was fortunate to have parents who got down on the floor to play with him, and to be enrolled in a childcare program that encouraged block building. From her grandmotherly observations, as well as years of experience in the education field, Hansel maintains that "every child can be a 'genius builder' if they are guided by a caring adult."
There is a fine line, though, between supporting and interfering in a child's play. In this article she offers helpful tips for guiding children in appropriate ways during block building. Read now.