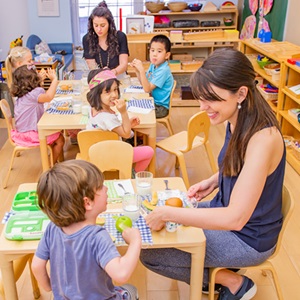 Making Care Visible and Valued
Posted by:
October 23, 2018
"A parent approached me a couple years ago and explained, in an apologetic tone, that she was pulling her daughter out our of our accredited campus child care center to put her in a 'real' school," relates Carol Garbonden Murray.
The mother acknowledged the great care her daughter received, but, in a desire to "prepare her child for kindergarten" failed to understand the connection between quality care and early learning. (Needless to say, she was back in a few months when she realized her mistake.)
We know that relationships are the foundation of successful early childhood education. The daily acts of caring—feeding, washing, and dressing—are the base on which these relationships are formed. As a profession, we cannot allow these important tasks to be seen as merely custodial. How can we make care visible and valued as educational? Read on.