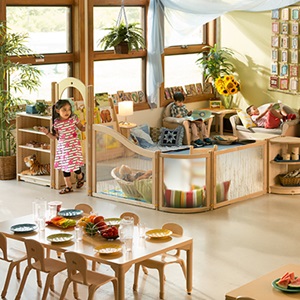 Inspiring Spaces to Learn
Posted by:
September 4, 2018
As another school year begins, it is important to take a fresh look at your classroom. The environment must be a dynamic and living space which continually engages your students and conveys the quality of your program to parents.
For the environment to take on the role of the "third teacher", every article present must have a purpose. Dare to take action to improve your environment—whether it be de-cluttering, rearranging, or finding a new way to display your manipulatives.
Take a look at these inspiring classrooms. The careful selection and arrangements of furnishings is an essential step in creating an environment that invites learning.