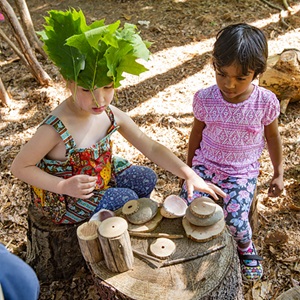 Pretend Play in a Natural Setting
Posted by:
June 11, 2019
"Fantasy play is the glue that binds together all other pursuits, including the early teaching of reading and writing skills." Vivian Gussin Paley
Fantasy play, or pretend play, is an integral part of childhood. While too often limited by the narrow confines of a dramatic play corner, pretend play can flourish outdoors if children are given the space and materials.
Fixed playground equipment like slides or swings encourage active play. What materials should you introduce to promote pretend play outdoors? Read the article.