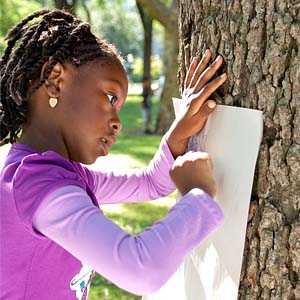 Texture Rubbings
Posted by:
September 17, 2019
The world is full of different colors and sounds which can grab the attention of a child. Less noticeable perhaps is the great array of textures that can be found out in nature. One of the best ways to explore and appreciate the varied surfaces and patterns of the environment is to do crayon rubbings.
Bark rubbings are the easiest to start with. Give the children a piece of copy paper and some dark colored crayons (with the paper cover removed). Tape the paper onto the trunk of a tree and rub the side of the crayon firmly over the paper. Try different kinds of trees and notice the different patterns and textures that appear. But don't stop there! Leaves, grasses, ferns, or rocks will make intriguing rubbings.
When you're done you'll have a big sheaf of patterned papers for your next art collage! But more importantly, your children will have a growing interest and awareness of the richness of their environment.