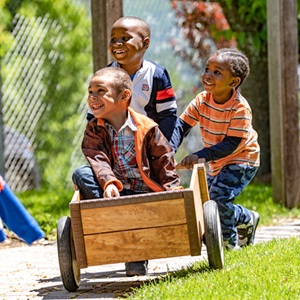 Give children more time and space to play!
Posted by:
January 7, 2020
"Why is it still so hard to give young children the space and time to play?" asks Erika Christakis in a recent post on the Defending the Early Years blog.
"Like all young mammals, children are prewired for play. But having a play impulse isn't the same thing as having play know-how. The latter actually requires time and practice to cultivate. And in today's world, young children have less time and space to develop their play know-how.
"To reap the full benefits of play, therefore, we need to cultivate the play habitat in which children can become experts in play. We need to adopt the rhythms of childhood more often, allowing kids to dawdle, to repeat things, to be aimless, to make messes and mistakes, to have conflicts and get mad, and sometimes to have exactly zero objective in mind."