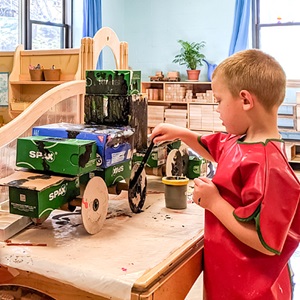 Embracing Process Art
Posted by:
December 7, 2021
"When my son was three years old, I went to an 'art show' at his nursery school," relates Elizabeth Richards. "I stopped in front of a display labeled Whooo is it? and stared at the rows of perfectly assembled owls, each of which had a lift-up flap with a child's picture underneath.
"As an early childhood educator, I had a gut feeling that something was off here. Was this what preschool art was supposed to look like? Where was the creativity and self-expression?
"That was the beginning of my questioning around how young children should experience art. . ." Read more.