Building Relationships with New Families:
Continuing the Relationship

This is the last article in a three part series on family engagement:
Continuing the Relationship
A new family has started in your classroom. How do you keep them informed of their child's progress? What should you do to include them in what is happening in the classroom and the school community?
Finding opportunities for families to be involved in ways that support their child's growth and development can be challenging. How parents see their role in supporting their child plays a part in how they become involved at school. If they believe that their involvement will be effective, they tend to have a higher commitment to the school.
If parents believe that their involvement is effective, they will have a higher commitment to the school.
A study of kindergarten parents and teachers in New Zealand (Billman, Geddes and Hedges, 2005) revealed that parents often see their volunteer role as being dominated by "domestic" duties such as chopping fruit or cleaning. When parents are involved in more active types of undertakings such as helping with a class project and engaging with children, this has a more positive impact on children's learning. Parents believe that their involvement influences their child's development (Banks, 2013), but because they often receive inadequate information from the teacher, they remain less involved in their child's learning (Billman, Geddes and Hedges, 2005).
When parents are aware of happenings in the classroom or stages of child development, they are better able to support learning. When teachers are aware of occurrences at home, they have a greater insight into the life of the child and are better able to prepare learning activities.
A key to family involvement is to make available a range of opportunities without obligation. Below are some different ways you can engage and communicate with families.
Communicate and document
Sharing information with families about something the child did that day in the form of a postcard, note, or a message on their chart is a great way to engage families especially if you're not there at pick up time. Families are very interested in the social and emotional aspects of their child's day. What did she do? Who did he play with? An anecdote from the morning's block corner activity, for example, gives families a small insight into their child's day and can be an opportunity to start a conversation with their child or a home learning adventure. It may be information about learning academically (Aliya-Su sorted shapes correctly/counted to 20), socially (Jamie and Izack worked together to build a fort) or emotionally (Monica was very sad today when we read a story about a lost dog. She told me her dog ran away one day and the story reminded her of that).
Share lesson plans
Share your planning with families. If there is a special focus on "the sky" let them know what their child might be learning and ways they can continue that learning at home. For example, "Tonight, before bed, look at the sky and discuss what you can see and cannot see."
Provide a school calendar, share newsletters, and build a notice board
A calendar gives parents a heads up on events such as meetings, special events, fundraisers, and holidays/closures. Often a center-wide weekly newsletter is sent out with information about activities, learning, upcoming events, and reminders about dietary requirements or health issues. Is there an opportunity for you to share information about your class in the newsletter? Noticeboards are useful for information sharing especially if you make them look attractive and regularly change the look and the information that is on them. Encourage families to look at the newsletter and notice board for information. If you give a special mention to a child in your class ("Congratulations to Caitlin in the Butterflies room for being able to recognize primary colors") or add a photograph of the child and an explanation of what they are doing, this will certainly capture parents' attention.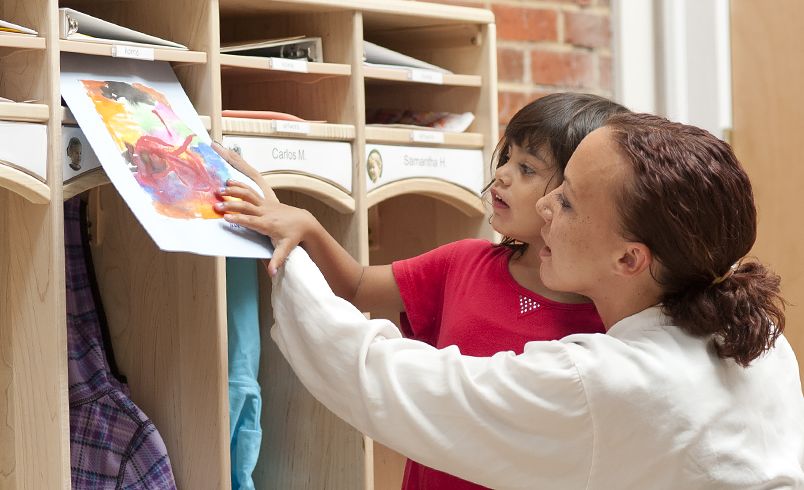 Ask for parent help
Are you able to have parents assist you in class on a special activity? Many parents or grandparents have skills they can share with the class such as singing/music, drama/storytelling, carpentry, sewing, or cooking. Parents in my study (Banks, 2013) really liked to be invited into the class. They found that their children appreciated having a family member there sharing the experience.
Create portfolios
Keeping track of children's development through folders of their work, photographs, or records of development are excellent ways to start conversations and show growth and development in all areas. There are several apps available for tracking development too, for example: Bloomz, LifeCubby, and See-Saw.
Arrange meetings
Class meetings, as well as individual meetings, are excellent ways to engage families. Group meetings for specific age groups (0-9 months, 9-18 months) or class groups are an opportunity for families to interact and discuss developmental issues or what to expect in the coming months. These meetings are generally led by the director of the center but teachers may also be present to hear parent concerns and to explain how situations (such as biting, toileting, or transitions) are handled within the classroom. These meetings offer opportunities for families to share their challenges or approaches to an issue with other families which can be of benefit.
Individual family meetings are a great opportunity to connect and discuss how children are developing. You can share their portfolios and discuss successes they have had. You might also share what the family may expect in the future in all areas of development and offer ideas and methods for dealing with situations that may arise.
Consider family projects
Parent involvement is most significant when it is directly linked to learning. Depending on what your curriculum focus is, maybe there is a family project that can be added. Riding a bus, going to the park, eating vegetables—whatever your focus is, try adding a family experience so that the learning can be extended and supported at home. Children and families can document the experience with drawings, photographs, or a pre-created postcard.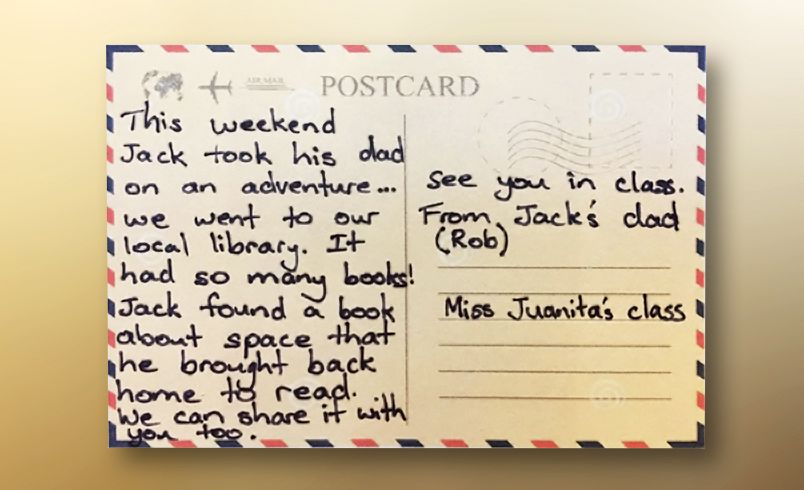 Share how you teach
Sharing your methods for teaching (especially handwriting or math, for older children) will engage families in the learning. A great time to share this information is at a parent meeting. A quick instruction at pick up or drop off is good too if the parent isn't in a hurry. "If you have a minute let me show you how Adam is learning to write the letter D." "When we use blocks to count to 5 this is the method I show the class." Whatever the situation, sharing your methods or having the child demonstrate, is important for continuity and allows families the ability to follow up at home.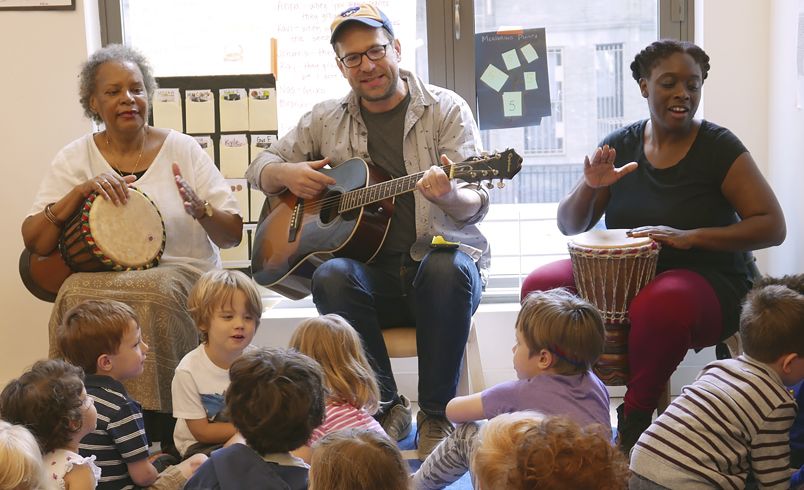 Construct displays
Use documentation when you display the work you do in class. Set the scene and describe the learning. Why did you choose to paint animals? What skills did the children use during the activity? What language did they use as they were working on the task? Did you introduce new words? Displaying the learning is a way for families to see what their child has been doing and offers another opportunity for a conversation.
Create a welcoming classroom
This is an area that is sometimes overlooked regarding engaging families. Is your classroom welcoming? Is there a cubby for each child? Is there an area where parents can sit with their child either at drop off or pick up so that they connect and share experiences? Are you able to offer a snack to share before the ride home? Can they sit and read together or play for a little bit before they head out? Do you facilitate these connections, or do you want to get the place cleared as quickly as possible?
Developing a relationship with families will take time. You must be patient and work hard but once the relationship is there, your job may be easier. Understanding the challenges parents face each day and then providing them with involvement opportunities that offer accommodation is beneficial. Asking families to be at a meeting first thing in the day often adds to the pressure. Being flexible in timings of meetings, as well as offering them more than once, is a way to overcome the conflicts. Get to know your families and ask them how they would like to be involved. Language barriers or cultural differences may be a factor with the seemingly unwilling parent, so be sure to keep that in mind and look for resources to help build connections.
There is not just one method for sharing information with families. Some parents like the daily communication sheet and others prefer to receive an email. The times when parents can sit with teachers and discuss the child's development are highly valued. Each new spurt in growth and development is an optimal time to join with parents in understanding their child's progress, what they can expect to see, and what challenges may lie ahead. Opportunities to discuss a child's social, emotional, physical, and cognitive development give parents the opportunity to see that you, the teacher, know their child and that they made the right decision in choosing your facility.
References:
Banks, M., (2013). Relationships in early childhood education and care: a qualitative study of the parent-teacher relationship from parents' persepctives. University of New England.
Billman, N., Geddes, C., Hedges, H. (2005). Teacher-Parent Partnerships: Sharing understandings and making changes. Australian Journal of Early Childhood, 30(1).
About the Author

Margaret Banks
Margaret Banks, M.Ed., is an early childhood teacher whose interest and going research is on family engagement and how teachers can best support the needs of families and children.