Article
Following Children's Lead with the Project Approach
Inspired Learning for Children and Adults
|
August 2023
For nearly 15 years, leaders, educators, and researchers in our early childhood community in Kansas City, Missouri, have worked hard to create a professional network for developing, supporting, and sustaining learning environments for children using the Project Approach. The effects on learning from this network of supporters were astounding to see.
When communities come together to support one another in project work, learning is more connected and outcomes are enhanced across all areas of children's development. Collaboration between educators, children, and families makes implementation of the Project Approach concepts more attainable. As we share our research and practice examples, we hope to inspire others to apply the Project Approach at their centers and schools.
---
The Project Approach
The Project Approach is an approach to teaching and learning where children learn through in-depth explorations of topics that emerge as shared interests during children's play, phenomena in the school community, or inspirations from teachers. Projects involve an individual, a group of children, or an entire class. Projects can be short (4-6 weeks) or long-term (6-12+ weeks) investigations.
For more on Project Approach, read more articles here.
---
At the completion of a project, our community comes together to celebrate and honor learning through a Celebration of Learning. This is an opportunity for reflection about children's powerful learning experiences, while increasing adults' enthusiasm for teaching.
We'd like to share just one example of a project, following a group of preschooler's growing interest in rocks and the community involvement in learning. This project took us from a puddle full of rocks to a sculpture garden and mosaic party. By following the children's lead and extending learning based on topics they were already interested in, a simple exploration became weeks of study. It's just one example of how children's passion, when acted on, can motivate powerful play and learning opportunities.
Della Judie-Fisher, one of the teachers and now coaches in our community network, recounts the Rock Project as follows:
Project Snapshot: The Rocks Project by Della Judie-Fisher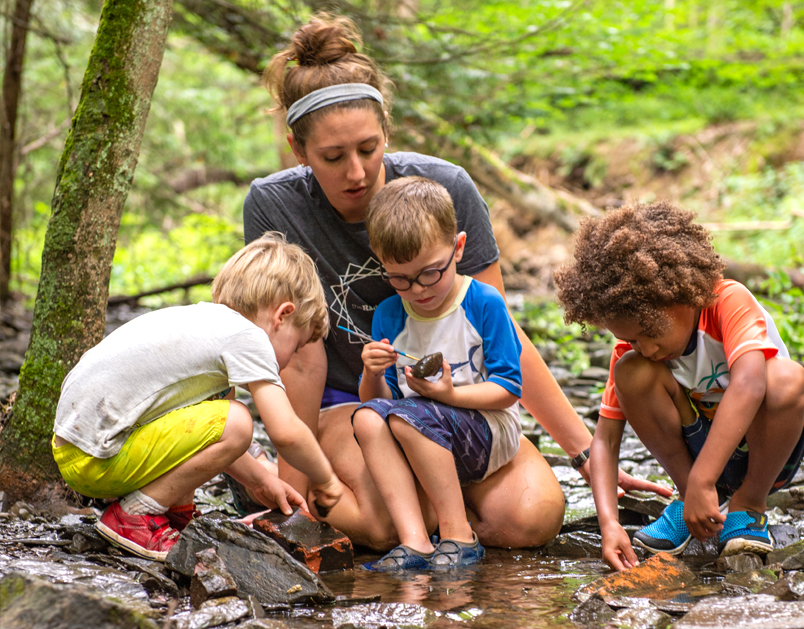 Phase I: Beginning the Project
We had a lot of rain in September. Children discovered a puddle and noticed rocks of different sizes in it. They started collecting many rocks on the playgrounds and at home, bringing them into the classroom. We noticed the children's interest in rocks and brought in many books about rocks to extend learning.
Children enjoyed the books and began comparing rocks and incorporating them in their play and artwork. For instance, they painted rocks and made them into pets. Children wanted to know what we could do with rocks. They noticed they could write with rocks. Teachers put rocks in all the centers to see how children would use them. In the math center, children counted them, used them to measure things and sorted rocks by size and shape. They pretended label cards were money and sold rocks in the dramatic play center.
Phase II: Developing the Project
Children asked questions about things made with rocks, and teachers helped them web their prior knowledge. An expert jeweler came in as a guest speaker and the children learned to make jewelry with rocks.
The children also included games to extend their knowledge of rocks. For example, the teacher put a bag of rocks along with a piece of cardboard imprinted with random numbers. Children incorporated other classroom materials to play games in the science area and in large groups. They played with a scale to compare weights of different rocks.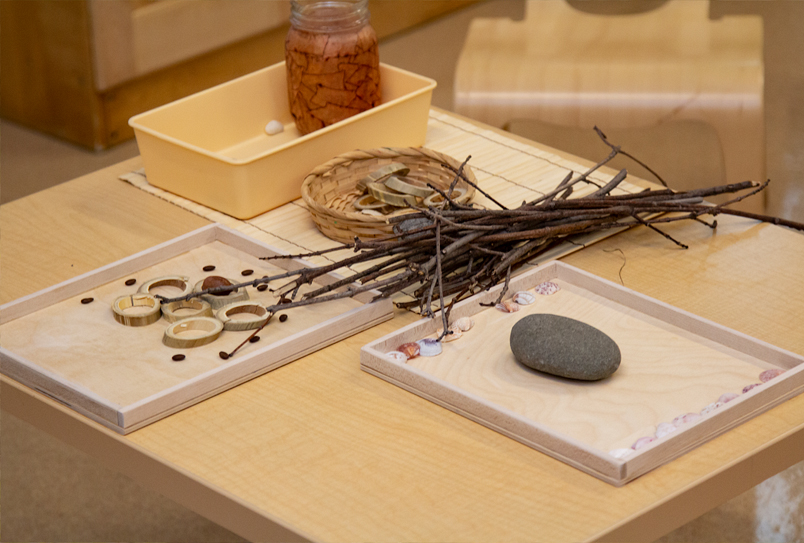 Children also noted that statues are made of rock. Over winter break, they were asked to look for statues in their homes and community. One child brought in two statues from her home, and children made many observations and wrote in journals about statues.

Teachers shared pictures of the sculpture garden at Nelson-Atkins Museum of Art. After seeing pictures of the sculpture garden, we decided to visit the museum. In preparation, children shared their previous experiences of museums, teachers read many books about museums, and children represented learning from those experiences in drawing and writing. Many parents joined us for the field visit. Children and parents recorded their learning about the statues. The teachers asked children how they could share their learning from the museum. They suggested writing a class book and writing a note to the expert they had met, who had spoken with the children about why the Museum Guard statue was created.

Teachers then shared Niki's World, a book that includes mosaics created by Niki de Saint Phalle, along with a sample mosaic. Children used clay, rocks, and kinetic sand to create mosaics. Parents then came to the classroom for a "Mosaic Making Party" and helped the children make mosaics using rocks.
Phase III:
Teachers and students brainstormed how the story of this project should be shared. Hallway displays outside of the classroom shared artifacts from the Rock Project. Parents were invited to see the artifacts and a slideshow created with children's input.
Della's Reflections
Before this project, I didn't realize how many skills could be taught through rocks. I pushed myself to creatively incorporate standards into activities. Children were challenged to think creatively. One day, a child came up with a surprising explanation about why a Martin Luther King, Jr. statue was created. This pushed her to think about the "why" behind other things too. Another child showed excitement like I had never witnessed before at every stage of this project. Project work highlighted a new side of him, his parents noted they saw him in a new way—as a curious learner.
Following Children's Lead
If you are new to the Project Approach, it may be challenging to shift away from teacher-directed activities towards child-influenced activities, where children have agency to make choices and impact their own learning. Della, like other experienced Project Approach teachers, has learned to carefully observe children's interests during their play and discussions. Many teachers use "I wonder" statements to draw out children's ideas. These two strategies alone often lead to project ideas, like the Rock Project, where adults and children begin to co-construct meaningful learning. The Project Approach results in powerful individual, differentiated, and culturally responsive teaching and learning emphasizing intellectual development.
No matter what your program looks like, or where you are located, concepts of the Project Approach can be applied. With careful observation of children's interests, and plenty of support from the local community, educators can leverage children's curiosity and passion to create rich learning experiences.
---
For more information on getting started or advancing your work with the Project Approach, we invite you to join the NAEYC Project Approach Interest forum by visiting:
https://www.naeyc.org/get-involved/communities/play-and-policy
Resources
Beneke, S. J., & M. Ostrosky. 2013. The potential of the project approach to support diverse young learners. YC Young Children, 68(2), 22-28. https://www.jstor.org/stable/42731194
Bolz, C., C. Wilson, E. Gray, P. Scranton,L. Roti,P. Stamps, & L. Smith. 2020. "Professional development models to support teaching with the Project Approach." In Growing Child Intellect: The Manifesto of Engaged Learning in the Early Years, edited by Judy Harris Helm and Karrie A. Snider. New York: Teachers College Press.
Helm, Judy H. 2015. Becoming Young Thinkers: Deep Project Work in The Classroom. New York: Teachers College Press.
Helm, Judy H., L. Katz, & R. Wilson. 2023. Young investigators: The Project Approach in the Early Years, 4th ed. New York: Teachers College Press.
Helm, Judy H., and K.A. Snider, eds. 2020. Growing Child Intellect: The Manifesto for Engaged Learning in the Early Years. New York: Teachers College Press.
Katz, L.G., S. C. Chard, & Y. Kogan. 2014. Engaging Children's Minds: The Project Approach, 3rd ed. Santa Barbara: ABC-CLIO, LLC.
Lickey, D.C. and D. J. Powers. 2011. Starting with Their Strengths: Using the Project Approach in Early Childhood Special Education. New York: Teachers College Press.
Vartuli, S., C. Bolz & C. Wilson. 2014. "A Learning Combination: CLASS and the Project Approach". Early Childhood Research and Practice. (16)1: 1-13. https://ecrp.illinois.edu/v16n1/vartuli.html
Topics
Pre-K, Project Approach, Family Engagement, Importance of Play