Article
Bringing Home to School
|
January 2007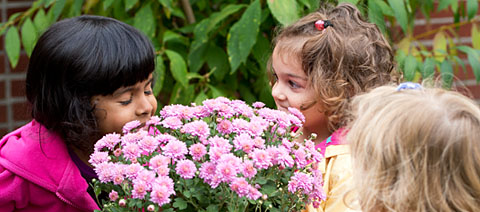 25 children in my classroom. Representing 17 different countries.
Whoever coined the phrase "melting pot" just didn't get it. Or else I couldn't see the analogy. What I did see was a wonderful ebb and flow, a fascinating collection of heritages that drifted around each other, through each other, and sometimes clashed with fiery exchanges. I felt proud to be a teacher – proud and completely out of my depth!
Here I was, a southeast New Yorker in southwest Florida, and I really wanted to do justice to ten distinct and very unique Central American countries. Not to mention Haiti, Cuba, Puerto Rico, Canada, Czechoslovakia, the Seminole Nation, and the various backgrounds from around the USA that converge on Florida in winter.
Our children's parents led busy lives, working long hours and often contending with English as a completely new language. I only know a smattering of Spanish and German. But most of them said they would be honored to find a time to visit our class, and after a lot of back and forth, here is what we worked up. Maybe it will work for you too.
In September, I sent home a flyer inviting parents to come to our classroom and sign up for a visit one day this year. Using a gigantic wall calendar, we wrote in one visit a week, but didn't tie it to a particular day, since in many cases our schedule was far more flexible than theirs. (The week before each visit, I phoned or connected to confirm the day and time.)
The flyer explained our wish to become more acquainted with each other's history and hopes. It offered suggestions for contributions, but these were only ideas to kick things off, and nothing was mandatory. I made sure to stress that if even one of these thoughts inspired them, we would be happy. Here are the suggestions, with some later interjections from me:
History:
Do you have a story about your country, how it came into being, what keeps it together, what you like the most about it?
Can you tell us about your childhood – a happy memory, a scary memory, something that the rest of us might not have experienced or be familiar with?
Can you bring anything from your country that we can pass around and learn about? (This was a winner – an art appreciation class! We saw paintings, soapstone sculpture, intricate weaving and basketry, to name just a few.)
Music:
Do you know a children's song that you wouldn't mind teaching us? (I wish you could have heard the classical guitarist from Nicaragua.)
Or maybe you have a CD with your favorite songs or music.
Can you tell us about the instruments that make the music?
Is there a dance that goes with the music? Can we try it? (Sometimes we just freestyled to the beat of a good salsa)
Language:
In our classroom, we'd like to be able to say hello and good-bye in all of each other's languages, so everyone feels welcome. Can you teach us how? (We wrote these up in big letters on the wall.)
Food:
If you like to bake or cook, we are eager to enjoy your creation and hear about how you made it.
If you'd rather not, here's an idea from Alejandro's mom – she stopped by her favorite Cuban restaurant for a bowl of fried plátanos, and we ate it all!
Hopes:
What do you wish for your child in her future?
What is something you learned from your country/culture/heritage that we can learn from as we grow up? (Now we got to discussions about tolerance, understanding, and appreciating people more than things. What an ideal way to broach such subjects to preschool and school age children. Because it's in context, it's not a lecture.)
We were surprised and inspired by the positive response, and the time and talents each parent invested. Our kids looked forward to every session with great anticipation. Without turning to see, I could often tell which parent had come to pick up their child, because various children would greet them in their language. Each visit spawned some good circle-time discussions, because (and this is no surprise), angels we are not. Somebody is always going to say, "What is this food? I don't like this stuff." "You look funny when you dance." But each visit also brought with it a noticeable drop in "cultural tension" or clashes, as more understanding developed.
I have had teachers ask how this plays out in a less multi-cultural classroom. I have to say, I don't know. Maybe it could work on a more voluntary basis, as often families who have been in the US for some time will keep their countries of origin alive and be happy to tell about them. Perhaps you'll need to rely more on your local community, posting flyers on school bulletin boards or at the public library. You could also arrange for a college friend or an old acquaintance to contribute.
Even one session will go a long way. We owe it to each child to honor his background, to foster better understanding and most importantly, to learn appreciation for the unique story that makes each of us who we are. It has a direct effect on who we will become.
Topics
Inclusion, Family Engagement