Article
Connecting Children to Their Cultures and Communities
|
January 2007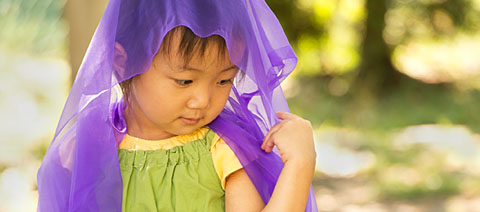 When I taught kindergarten at New Meadow Run School, a student from Lake Titicaca joined our class. She came from a local Indian tribe, but she was fluent in Spanish. Erika soon picked up many English words and phrases from the other children, who learned a great deal of Spanish from her. Her favorite activity was playing in the dramatic play area with a doll almost her own size: combing her hair with a huge, pink comb, carefully dressing the doll, and then putting it to bed in a wooden cradle. My favorite memory of Erika is her sweeping the classroom floor with her 'baby' on her back, held by a large blanket that she used like a native shawl. She became a very positive and important part of the classroom community.
Erika was quickly absorbed into the classroom community because all the other students in the class were very used to having visitors from different parts of the world visit their classroom and community. Since birth, they had been exposed to people of different backgrounds and lifestyles. They thrilled at learning about new people and in exchanging ideas and activities with a fellow classmate from another country and culture.
Early Childhood Programs are Part of Communities
It's easy for early childhood programs to become isolated and insular. They become their own little world. But children in our programs need and deserve to have the rich cultural influence of a vast variety of people, ideals and information from outside of the program. Growing up, I vividly remember visiting Harry, the carpenter, in his shop, helping Alf collect hen eggs, and watching Tommy expertly handle the sheepdogs as they rounded up the sheep on the farm. Early childhood programs and schools are part of larger communities. They reflect those communities - their diversity of people, values, businesses, arts and resources. When I taught at PACERS School in Kansas City, Missouri, we actively used the community as a learning resource. We often visited Kaleidoscope (Hallmark Cards) for art projects, our students pretended to drive the tractors, combines, and hay rakes at the Agriculture Hall of Fame, and we participated in a variety of exciting historic events and activities at a large, well developed 1850's outdoor museum run by the city parks department (Wardle, 1978).
On a weekly basis we used the Jewish Community Center swimming pool for lessons, went bowling, practiced ice-skating at the local rink, and regularly visited the public library. We also used the Kansas City Learning Center (a teacher resource center), visited Loose Park Rose Garden (with a wonderful pond for floating boats), and enjoyed the Harry Truman Museum in Independence, Missouri.
We also made use of community resources by borrowing a variety of student aides from local colleges and universities. And, for one Thanksgiving, members of a local Native American Nation visited the school from Haskell Institute in Lawrence, Kansas. Before the event, our students studied the typical way Thanksgiving is celebrated in most schools. When these three students visited our school, they presented some native dances (social and ceremonial), talked to the students about their own perspective of Thanksgiving, and then joined the students and their families for a wonderful Thanksgiving meal together (Wardle, 1976). This event radically changed the views and ideas of all of our students not only about Thanksgiving, but also about historic accounts of the founding of this country.
Clearly this active use of the community taught our students about the incredible resources available, about respecting and caring for parks and outdoor museums, and the relationship between school, community, and culture. They also learned that the community can provide a great deal of learning and enjoyment for almost no money.
Folkdance Group
When I taught at Da Nahazli School in Taos, New Mexico, the students loved to learn dances from around the world. As they became better and better at doing the dances, someone suggested we create a performance group. Over time this group – with the help of their parents – sewed costumes and put together a performance of dances they loved and were good at performing. We then toured the local communities: plazas, parks, BIA schools (Bureau of Indian Affairs) and public schools.
It was interesting for the Pueblo Indian children at the BIA schools in each Pueblo to see dances from other places and cultures, since they are so familiar with dancing their own ceremonial and social dances for religious events and for tourists. Children in the local public schools were mostly Hispanic, and children in our school were all white, or what we in New Mexico called Anglo. Thus these dance performances provided a great opportunity for children from each group to have contact with each other. And we usually had enough time after the performances for the audience to ask our dancers questions, and then for some free playtime between the children.
Connecting Children to Their Cultures and Communities
There are, of course, many ways for early childhood programs to help connect the children they serve with their cultures and communities. These include: providing a program that welcomes and includes everyone, taking children into the community, and using community resources in the program.
Everyone Should Feel Welcome and Part of Your Early Childhood Community
Programs can do a variety of things to make each child and family feel welcome. These include using photographs and artwork that reflect each family throughout the entire building, making sure every child and family is addressed in program communication pieces (newsletters, reports, announcements), and making sure that educational materials—such as books in the parent lending library—provide something for everyone. This visibility in the program is particularly important for people who are usually overlooked, such as fathers (Cunningham, 1998/9), multiracial and multiethnic families, and all kinds of foster and adoptive families (Wardle, 1990; 1999). However, there are few commercially available materials that reflect the wonderful diversity of our families and children, so programs and creative teachers need to make their own, using photographs, posters, art materials, artifacts loaned from families, interviews, oral reports, etc. We cannot rely on commercial vendors to provide these materials: we must make our own.
A special bulletin board works well to address areas that are often missing in programs, such as the father's role, ideas for encouraging play and reducing TV time, and information about multiracial and multiethnic children and transracial families. Programs that respond to each family's unique needs make everyone feel welcome. When I was a Head Start director, I noticed children in our program from Jehovah's Witness homes were asked to stay at home when we had any kind of celebration. Clearly these children did not feel connected to our program. So I talked at length with several parents about their culture, invited them to join our policy council (governing board), and made several changes in our approach to celebrations.
We also had an influx of Hmong families in several of our centers, but we knew nothing about their history and culture, other than that it is very, very different from ours (Podeschi & Xiong, 1994). So, we invited an expert to provide training to our staff, worked with local Hmong community and religious leaders, and expanded our somewhat restricted and restricting view of diversity to be much more diverse and inclusive (Wardle, 1991).
Take Children into Their Communities
As already discussed, there are lots and lots of ways for children to explore the resources in the communities where they live. This can be achieved through field trips, joining festivals and other community activities, and sponsoring specific events for children and families in the community. Many communities have community gardens, trails, wetlands, nature preserves, outdoor museums, living museums, etc. Every year my Head Start program planned the Adam's County Children's Festival for all the children of the county. Not only was this a great activity for the children, but it also brought together a variety of community agencies that focus on the needs of children and families children: library, childcare, local schools, children's performance groups (skip rope, Mexican dancing, bands) and others. It was a great success!
Include People From the Community in the Program
There are many ways to include people from the community in your program. These include volunteers, parent requirements for involvement in the school (parent cooperatives and some private programs), visiting speakers and presenters, and using practicum students from local colleges. Many programs such as Head Start also hire some of their staff from their parents and the local community. Scouts, high school students fulfilling their community service requirements, grandparents, and local church volunteers, all will benefit your program and feel benefit in return.
Caution, however, must be applied when choosing visitors, especially individuals who are chosen to represent specific ethnic, racial, gender or disability groups. First, it is critical to avoid reinforcing stereotypes (thus, invite a white football player, a black ballet dancer, and an Asian politician); second, as Bandura has shown so clearly in his research (1969), role models are only effective when they demonstrate what they are good at. An athlete is not a good role model for learning to read, or an entertainer for staying in school. The best advice is to avoid celebrities and people that are not an authentic part of your community.
Suggestions/Guidelines
In developing ways to connect children to their communities and cultures, here are some specific ideas:
Always start with the individual child, and that child's connection to family, extended family, community and culture. Don't think about teaching culture or diversity; rather, think about including every child in the program.
Understand that religion, religious values, and people's views of the meaning of life, are central parts of diversity.
If the program is segregated (religious, economic, racial/ethnic, language, etc) find ways to expose the children to programs and children from different backgrounds. Exchanges, visits, joint community activities, and email correspondence are some ideas.
Help children develop a sense of belonging to a variety of communities, including the classroom, school, and neighborhood. While these groups often include ethnicity and race, young children do not understand adult concepts of these complex constructs.
Culture is not an abstract entity; culture is about people, people's behaviors and beliefs, and the way they live their lives and view the world. Culture cannot be "taught".
View differences that children and families bring to the program as assets to be incorporated into the curriculum, not as things that somehow must be "tolerated".
Embrace differences, openness, curiosity, and the diversity of all. Every child in our programs has a culture; it's our job to welcome it!
Children learn primarily by concrete experience, not words. While books, pictures, stories, etc., help, the best way to learn about diversity at this age is through direct human contact and exposure.
All cultures are very diverse; we must carefully avoid stereotyping them. I learned this on my visits to Brazil. That fascinating country is made up of Amerindian, Afro-Brazilian (from distinct regions in Africa), European (German, Portuguese, Italian, Dutch, Spanish, etc.), Lebanese, Syrian, and Asian cultures. But many Brazilians also see themselves as proudly mixed-race. While Catholicism is the official religion of over 90% of the population, there are also a variety of African and Indian religions. I call this diversity within groups: diversity of diversity.
Language is best learned through social interaction between children: play, finger games, songs and stories, not direct instruction.
Never, ever, present an activity that causes any child – for whatever reason, be it religion, a disability, behavior, academic struggles, language, identity – to be excluded, or feel ashamed about any part of his/her cultural heritage (Wardle, 2006). Diversity is about inclusion, not exclusion.
All children attending our programs belong to a variety of overlapping groups: religious, family, community, heritage, country of origin, possibly a disability community, language, and maybe a part of the school (i.e. special education, gifted program, etc). We need to recognize this complex nature of belonging (West, 2001), and help children integrate these various perspectives and not feel they have to play one against the other.
Conclusion
There are abundant ways for local early childhood programs to connect children with their communities and cultures. These must be active, deliberate, and ongoing activities. But, in doing so, we must recognize that the families we serve come from a variety of cultural backgrounds, that cultures are continually changing, and that all children experience overlapping cultures and communities. Thus we should carefully make sure that we never engage in any activity, or support any community cause, that omits or marginalizes any of our children or their families. Far from reinforcing divisions and separation, we are in the business of making connections and building community.
References
Bandura, A. (1969). Behavioral modification through modeling practices. In. L. Krasner and Ullman (Eds.), Research in behavioral modification. New York: Holt, Rinehart and Winston.
Cunningham, B. (1998/99). Men in child care. Child Care Information Exchange, Part 1, Sep/Oct; part 2, Jan/Feb.
Podeschi , R., & Xiong, V. (1994). The Hmong and American education: The 1990s. Milwaukee, WI: Institute on Race and Ethnicity, University of Wisconsin.
Wardle, F. (1976). You've come a long way. New Schools Exchange Newsletter, (April). 14-20.
Wardle, F. (1978). PACERS model: Education for democracy. Urbana, IL: ERIC Clearinghouse in Elementary and Early Childhood Education.
Wardle, (1990). Endorsing children's differences. Meeting the needs of adopted minority children. Young Children, 45 (5), 44-46
Wardle, F. (1991). Problems with Head Start's Multicultural Principles. Manuscript. Denver, Colorado.
Wardle, F. (1999). Tomorrow's Children: Meeting the needs of multiracial and multiethnic children at home, in early childhood programs, and at school. Denver, CO: CSBC.
Wardle, F. (2003). Introduction to early childhood education: A multidimensional approach to child-centered care and education. Boston, MA: Allyn and Bacon.
Wardle, F. (2006, Nov. 3-4). Honoring and supporting multiracial and multiethnic children in early childhood programs. Keynote presentation, Our Diverse World: A Conference Addressing Services to Multicultural and Biracial Children and Families. Lemoore, CA.
West, M. M. (2001). Teaching the third culture child. Young Children, 56 (6), 27-32.
Topics
Inclusion, Family Engagement