Article
Homelike Environments
|
December 2011

A child care center is the setting in which children learn, play, work, eat, sleep, find comfort, become excited and engrossed, and make meaningful relationships with new adults and other children.
Children in center-based care are spending much of their lives away from their families in surroundings that are, by nature, institutional. Living in a group setting for eight to ten hours a day creates inevitable tensions and stresses—even in the best of programs. Positive, nurturing interactions between caregivers and children can reduce the tensions; a homelike environment can ease the stress.
Homelike environments provide softness and challenge, stability and flexibility, space for shared living and for private moments, for both children and adults. Furnishings are chosen for comfort as well as for durability. Artwork, artifacts, plants, pillows, and area rugs are added for softness. The selection of wall colors, lighting fixtures, furniture, window treatments, floor coverings, and decorative accessories become as important as the choice of learning materials. In planning a homelike environment, it's helpful to consider the following elements: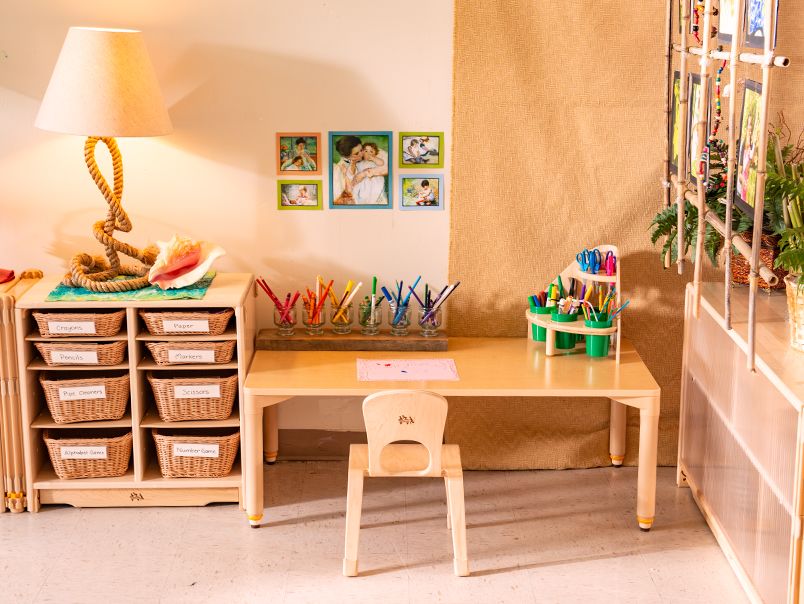 Color
Color can relax or excite; it can be noisy or quiet. It can emphasize one area of the space and diminish another. The intensity or hue of a particular color can evoke a particular feeling—happiness, tranquility, excitement.
A specific color at a room's entry announces that the room is distinct from the others and helps children identify its location. The entry color may be repeated in subtle ways inside. For example, there may be splashes of this color in random patterns on floor tile or rugs, or it may be repeated more explicitly in a wall molding or trim.
Walls painted a soft gray, eggshell, ecru, or beige produce a quieting effect. The intense hues of learning materials, toys, and children's artwork add sufficient color so that the environment is not drab.
Pattern
Patterns provide visual interest on walls, floors, and other surfaces. In display areas, wall covering patterns of small, symmetrical designs help the staff align artwork and other postings.
Special wall treatments delineate specific spaces. Chair rails or other types of molding can be used to define sleeping areas for infants and toddlers. Wallpaper borders also work well for that purpose.
Patterns on rugs may be abstract, geometric, floral, or symbolic. They are much more attractive to both children and adults when they are the kind of patterns found on rugs in a home.

Texture
Children experience texture through their eyes and skin. Design becomes more interesting when complementary textures are combined. For example, surfaces that are coarse, uneven, or grainy when contrasted with smooth or soft surfaces encourage children to understand the differences between soft and hard, light and heavy, smooth and rough.
Texture can be introduced in the classroom by using finely embossed or raised texture wall coverings to accent an area; incorporating area rugs with short, velvety nap along with rugs made of materials that are more coarse; choosing tables and chairs constructed of smooth, natural woods or grainy, colored plastics.
The room can include many soft elements such as rugs, mats, blankets, quilts, throws, and floor pillows. The younger the child, the more essential softness is in his surroundings, especially for items that invite his movement and touch.
Light
Lighting sets the mood in any environment. The experience of eating in a brightly lit diner, for example, is very different than in a restaurant with subdued lighting and candles flickering on the table, even if the food, dinnerware, and utensils are exactly the same.
Homelike lighting can be achieved through the use of a variety of sources: direct and indirect lights, fluorescent and incandescent fixtures, halogen lights, spotlights, and plenty of natural light.
Lighting can be provided by wall sconces, fixtures on tracks, column lights, and interesting table lamps. Intensity of the lighting can be varied by the use of dimmers or three-way bulbs.
Scale and Variety of Space
Spaces of domestic or residential scale, with a variety of ceiling heights and alcoves or quiet corners, help de-institutionalize the environment. Curved walls, where practical, provide a visual hug.
Combinations of flat and vaulted ceilings help define active and quiet areas. If ceilings are all at one height, canopies or banners can be hung to sculpt the space.
Furniture placement differentiates space to create niches where one or two children or a caregiver and small group of children may gather. Hallways and other circulation areas that are wider than typical corridors offer found space for play or parent-staff conversations or staff breaks.
Special Ideas for Special Areas
The reception area offers an opportunity to convey to parents, children, staff, and visitors that they are welcome. It should be inviting—reminding one of a home's entry rather than an office lobby. It is a place where adults can obtain information, visit with each other, or have a cup of coffee. It might include plants, displays of children's artwork, upholstered chairs, a console or table displaying information for parents, and a bookcase with books that can be borrowed.
For infants and toddlers, two areas allow each family to personalize their child's surroundings with items from home. The first is a quiet alcove or separate room which provides space away from noisy activities for the sleeping infant as well as privacy for the nursing mother. Parents can be encouraged to bring comforting reminders of home such as bedding, soft animals, blankets, and mobiles.
The second area is for diapering. This space, which should have accessible storage for each child's diapering supplies, can be personalized with family pictures and mementos. It can also have toys for the child to play with and a photo of his parents he can look at as the caregiver talks to him during the diapering routine.
Defined display areas help organize art and other postings in the classroom. Children's artwork, displayed at their eye level, can be matted to complement the colors in the picture. Information about the young artist and his comments about his work recorded neatly on sentence strips mounted with the picture complete the display. Framed posters, photographs, abstracts, and reproductions of the works of the masters, along with sculpture and pottery, can be displayed elsewhere in the classroom and throughout the center.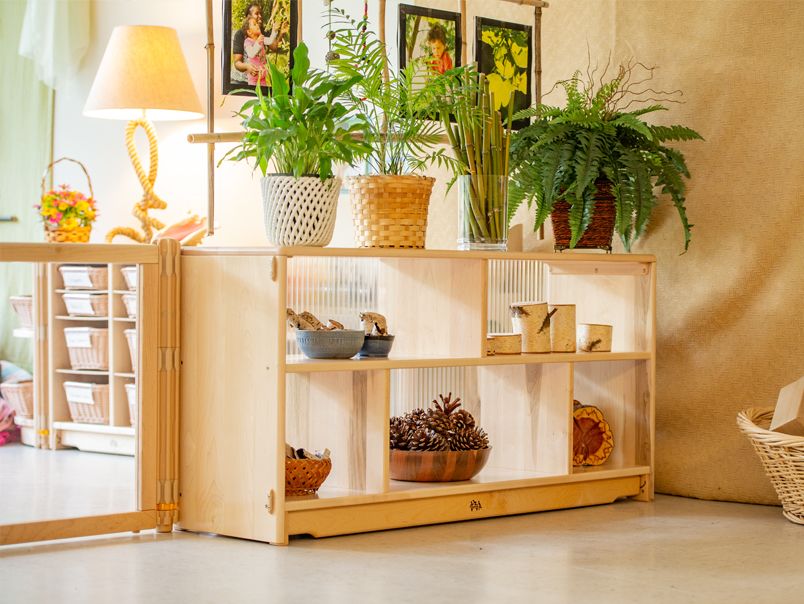 Other Touches of Home
From a bowl of potpourri and a framed print in the staff bathroom to a chenille floor pillowin the preschool space, touches of home promote a sense of comfort and well-being for both children and adults.
Placing large and small green and flowering non-toxicplantsin classrooms, entry areas, hallways, and on window sills or shelving out of reach of infants and toddlers adds color to the environment. Children can appreciate the beauty that plants add to our lives; they also begin to experience the changes that occur in nature as a seed becomes a sprout, a sprout develops a stem and leaves, and blossoms open, then fade and fall away.
Outdoorgarden plotsoffer children an opportunity to plant, cultivate, and harvest food for snacks and special cooking activities. Flower beds not only beautify the play yard, they also provide fresh flowers for the table at meal times.
Table and bed linensare simple reminders of home. Placing a fabric tablecloth on the table at lunch time changes it from a paste, paint, or puzzle surface to an attractive dining space. Colorful cloths with interesting prints or designs, selected for their stain and wrinkle resistance, are a good choice. Similarly, colorful, patterned crib and cot sheets make nap time a more pleasurable experience.
Large size throw pillowsgrouped on the floor in preschool classrooms add color and texture and offer a place where a child can retreat to read a book, sit with a friend or two, or observe the group. Fabric choices include chintz, velour, velvet, satin, chenille, flannel, denim, jersey, and fake fur.
In infant and toddler spaces, attractive shamson varying sizes of bed pillows used on the floor achieve the same softness but can be laundered frequently.
Window coverings such as pleated, mesh, or other translucent shades also provide homelike softness.
Area rugs atop a vinyl or tile floor make the room feel warm and welcoming. Rag rugs, dhurrie rugs, kilims, Oriental rugs, and those with Native American, African, or Peruvian motifs are interesting and attractive.
Choose rugs to match the nature of the activity to be performed in the area. A rug for the block area should be fairly large and have a short, even pile to provide a stable surface for building structures and rolling vehicles. A smaller rug with an interesting texture can be used in the quiet area, communicating that it accommodates only a few children at a time. In the dramatic play area, a small rug may be used under a dining table, in front of the sink, or beside the bed.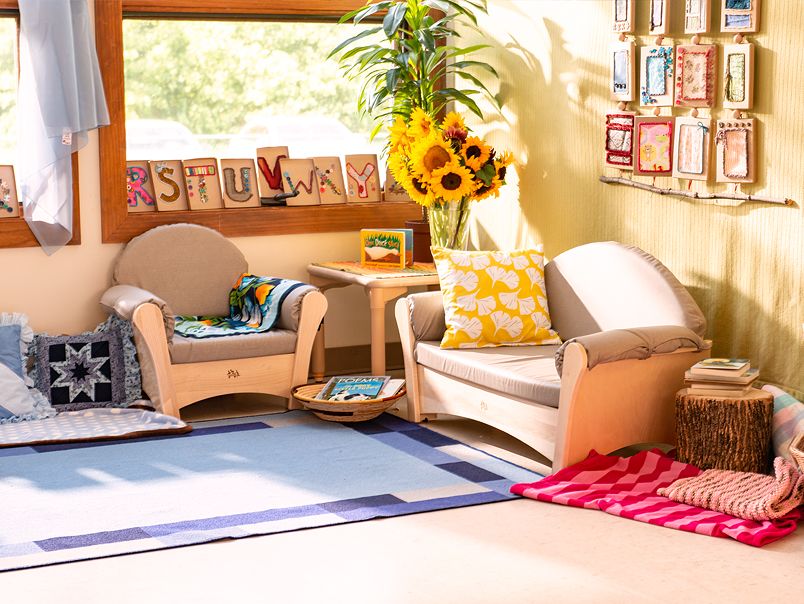 Artifacts in the center are akin to cherished family collectibles and heirlooms found in the home. An assortment of hand woven baskets arranged on a shelf or an array of masks hung on the wall add both beauty and opportunities for discussion by children and staff. A colorfully painted rowboat on the playground becomes a favorite site for imaginative play.
Display artifacts in the hallways and other areas of the center where parents, staff, and visitors can experience their charm and the intrigue that comes from the pieces' histories. An old sled may be like one used by a child's grandparent when he was young. A quilt hung on the wall may have been made by a child's parent or a staff member.
Everyone can be encouraged to contribute artifacts. Yard sales, second-hand shops, basements, and attics are good sources. Staff may find items to add to the center when they are vacationing away from home, or individuals in the community can be asked to donate interesting objects. As with all materials and equipment, those artifacts used by children or within their reach must be safe.
Appropriate design elements, opportunities for change of space and mood, and everyday reminders of home acknowledge and respect children's needs to feel safe and secure during the long hours they are in care. Moreover, when parents see images in the center similar to those in their own homes, they feel more comfortable leaving their children there. And when the workplace is warm and welcoming, staff are more relaxed and able to focus on the important work they do.
Copyright © Exchange Press, Inc. Reprinted with permission from
Exchange magazine. All rights reserved. Visit us at www.ChildCareExchange.com or call (800) 221-2864.
Topics
Homelike Environments, Classroom Design