Article
Modeling the Possibilities:
Building the Caring, Reciprocal Relationships Needed to Nurture Powerful Learning
|
March 2021

As we commemorate the one-year anniversary of the world-wide COVID-19 pandemic, we reflect on the lives lost, the suffering experienced, the devastated economy, the racial and societal inequities exposed, and the changed ways that schools operate. Throughout it all, teachers have heroically been working to support children's development—not just academically, but socially and emotionally too. Teachers of young children, in particular—many of whom have been working in person—have been faced with the challenge of addressing children's and families' broad sense of fear that the world is not a safe place. Our job responsibilities have widened to include helping children make sense of new experiences, images, ideas, and terminology.
As a teacher educator in New York City, I work with educators in New York City's schools and early childhood centers. Some are teaching virtually; others have been working in person throughout the pandemic. They do this while also experiencing their own challenges—some have contracted the virus themselves or witnessed the illness and/or loss of loved ones. Some have family members who have lost their jobs; others have been quarantined with multiple generations in crowded apartments. All have harbored uncertainties and fears. Yet, they persevere and continue on with their own education, which went virtual in March, 2020.
In preparing for my virtual classes I too struggled with my own feelings—my fears, weariness, uncertainty, sense of helplessness—in the face of the multiple crises: of the pandemic, of the economy, and of the racial and social justice reckonings happening all over our country. I realized that we are all—to varying degrees—experiencing trauma from these events and that if we are to have any meaningful learning take place during this time, I needed to acknowledge these challenges and traumas and help people use them as opportunities for growth. My knowledge of child development and the science of early learning helped me to understand how caring and reciprocal relationships are essential for children's healthy brain and overall development—physically and socially/emotionally as well; and that caring and reciprocal relationships are also a protective factor against hardship and traumatic stress. So, I set about to figure out how to apply this knowledge to adults; to find ways in my classes to support my learners' efforts to nurture young children by modeling how to nurture and support them. I share here some of my efforts to make that happen.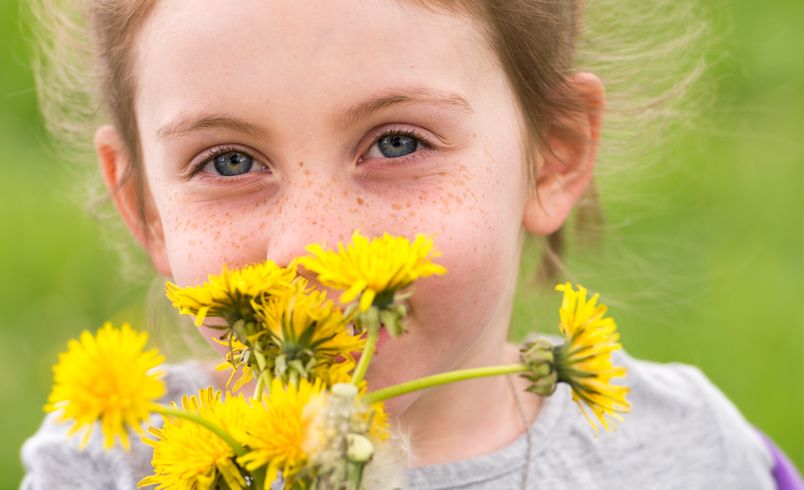 For each of the three semesters of pandemic teaching, I have begun each class, as I always did before, with efforts to create community: I introduced myself, sharing my own history and experiences, and then invited everyone to do the same. I always do this because I recognize that learners come to school not as empty slates who will receive knowledge, but as individuals with experiences and understandings that will shape the way they subsequently process information and construct new understandings. Since the pandemic, however, I have done something additional: temporarily delaying the start of traditional course content, my first assignment has been for class participants to share their own experiences and feelings from this last year. I have invited class participants to bring to the next gathering a poem, a drawing, a photo, a narrative, or anything else they wanted to share.
To model the possibilities, I began by sharing a poem that I wrote in the early months of spring 2020, when the pandemic and racial unrest were sweeping the country.
When the world paused…
When the world paused
the air became clearer,
the clouds drifted more freely,
the birds chattered gloriously
and the sun shined so brightly that
the tree leaves glistened in the blue, blue sky.
But…

the brighter light
caused by this pause
also brought into focus
the pain and anguish
of centuries of oppression,
of violence and cruelty,
and
of power and privilege
that has put a knee on the neck of so many lives.
This pause and this light and this focus
also
gave voice to millions across the globe
who spoke out and joined together to say:
Enough is enough!
End police brutality!
Black Lives Matter!
Justice must mean equity
and access to possibility for all!
Beverly Falk
June 2020
The Responses
Despite my prior knowledge of the many challenges of my students' lives, what they shared with each other the following week took me by surprise. In poignant and often deeply moving ways, their work spoke of illness, loss, sadness, fear, anxieties, and their pain about injustice; while it also expressed hope, gratitude for loved ones, longing for connection and community, and the opportunities that the pandemic has provided for personal learning and growth. Poems—their own and the works of others, drawings, quotes, narratives, powerpoints, music, and photos were the vehicles for these messages.
Pain
Kira shared a brief narrative that represented a lot of the students' feelings:
It has been a hard few months, for everyone. I lost a family member and was unable to say goodbye, still feeling like my family did not get closure. I saw friends fight covid because their lives literally depended on it. I was transient, left my NYC apartment to once again live with family and bounced around from place to place, but living as much on zoom as anywhere else. I felt inundated by fear, negativity and lack of hope. Everything felt so uncertain.
Echoing others' stories of the pain of their students, Kira also shared this note sent from one of the children in her virtual class: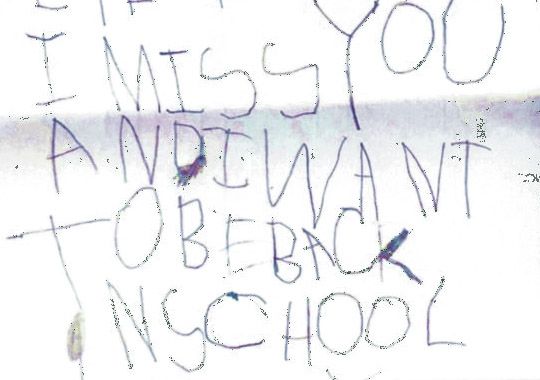 Anika shared a video she made that told the story of her family's experiences and feelings during the pandemic. The pain in her children's voices brought us all to tears.
Stephanie shared a photo that encapsulated our feelings: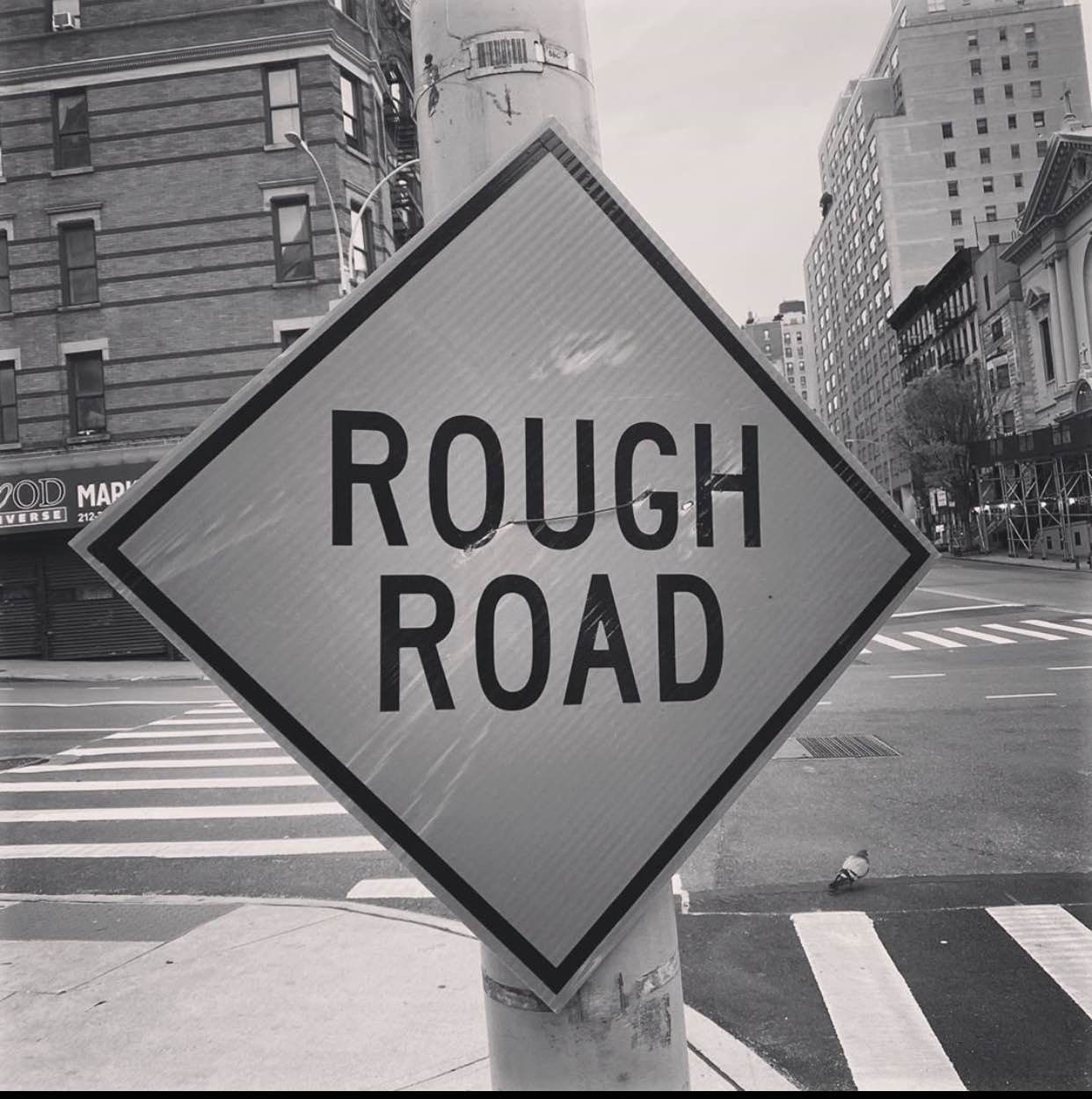 Lessons Learned
Many of the assignments that my students handed in discussed lessons learned from the pandemic.
Jasmin wrote about learning about her students—about how virtual teaching has helped her to better understand them and their life circumstances:
I discovered that many of my students live in a small rented room with their parents and siblings. I felt heartbroken and powerless. I understood that the classroom environment provided these children with the freedom to move around and explore. To socialize with their friends. And leave the confined space in which they live. Nothing can replace the experience that a regular school day provides. . . . Since many of my students live in poverty, they were accustomed to getting their 3 meals a day in the classroom. I worry for these children.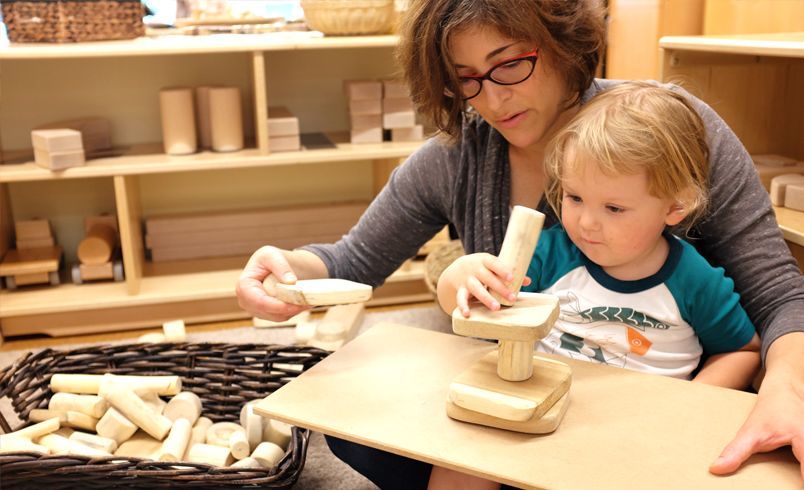 Others wrote about very personal kinds of learning. Elvira wrote about how being quarantined together with her son helped her learn to be a better mother:
The Last Seven Months
It was an eye opener
I learned a lot from my son
He taught me to live in the moment
And to stop thinking about the future
…I learned a lot from my son.
COVID made me a better mother
I learned how to be a better teacher.
…If it wasn't for COVID I would not know my son like I know him now.
Eloisa, after sharing quotes from one of her favorite poets that spoke to her personal fear of uncertainty, wrote about new understandings that she gained during the pandemic for calming her anxieties:
These few months have taught me that there will always be things in life that are going to challenge us. Whether it's physically, mentally, emotionally, or spiritually. I'm starting to learn how to take a step back and choose what I want to focus on, which are the things I can control. Even though these are still very uncertain times, I'm learning how to focus on peace.
Gratitude, Hope, and the Need for Community
In the midst of all the pain expressed, Jamelin's contribution—a picture that she drew of the globe of the world behind bars—was accompanied by a narrative that, after sharing her sadness, fears and anxieties, went on to express her gratitude for the support of her family and friends and her hopes for the future.
Although I felt like I was living in prison during these past months, I knew that I was not the only one in the world battling with adjusting to our new everyday life. The pandemic affected the whole world and many aspects of our lives. I know that even though I am full of fears about our new life and the future ahead. I am staying hopeful that our lives go back to normal, and we all get a sense of relief.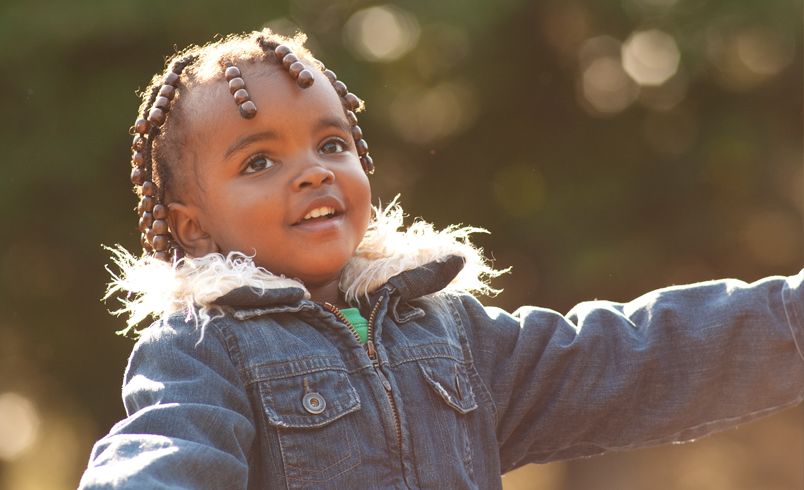 Diana too wrote about her newfound awareness of the interconnectivity of the world:
….We are no longer alone
We are sharing a sorrow
We are sharing a loss
We are sharing an emptiness
All of this and so much more
We are doing but not doing it alone
We are not alone
And we never were really alone.
Sharing all of these feelings and realizations brought our class together as a community. I hope it also modeled for my students the importance of connecting to and honoring the lived experiences of their students and of building the caring, reciprocal relationships needed to nurture and nourish powerful learning.
Topics
Professional Development