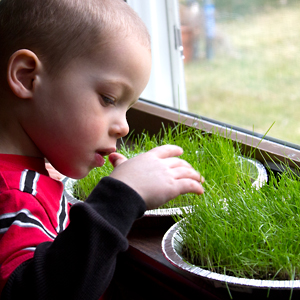 Seed Song
Posted by:
March 22, 2016
Unlike adults whose emotions are often tied to distant happenings and events, a child's universe is so immediate that even the smallest thing can inspire enthusiasm. Hence, spring—with all its abundant transformations that a child can touch, smell, hear, and see—is one of the most stimulating seasons of the year.
Our 3-year-old class got a head start on spring this year by planting grass seed in pans of dirt. With mounting excitement, they watched the fresh green blades shoot up right on their window sill.
If you haven't planted seeds yet with your class, you'll soon want to. Marigolds, planted now, will be blooming in time for Mother's Day. As you wait to see what happens to the seeds, here is a simple song with actions you can learn to extend the experience through music.
A little seed for me to sow,
A little earth to make it grow,
A little hole, a little pat,
A little wish, and that is that.
A little sun, a little shower,
A little while, and then . . .
A flower!
Watch and listen to the song here.