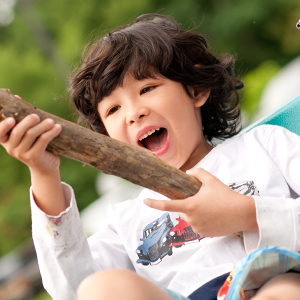 What's Wrong with an Active Child?
Posted by:
March 14, 2017
"The teacher just informed me that my three-year-old boy isn't the 'perfect fit'. They say he's too active," the lady related over the phone. "Is there something wrong with him?"
Angela Hanscom, a pediatric occupational therapist, was shocked. "My blood boils at the notion that something is wrong with an active three-year-old boy," she writes. "We are expecting children to sit still when they are just barely out of diapers?"
Sadly, this is not an isolated example. Academic pushdown and fears of litigation have pressured many schools to limit active play. Classic childhood activities like playing tag, sledding, or climbing are endangered. Monkey bars, swings, seesaws, and merry-go-rounds have been removed from playgrounds. This is taking its toll on child development. Children require full body movement, risks, and challenges in order to grow into balanced, healthy, and resilient adults. How can we overcome our fears to give children the outdoor play and unrestricted freedom of movement they desperately need?
As a therapist, Angela has successfully treated many children with attention, balance, and sensory issues. What is her unconventional remedy? (Hint: It has to do with messy mud puddles, scary rope swings, and fallen trees.) Read the article.