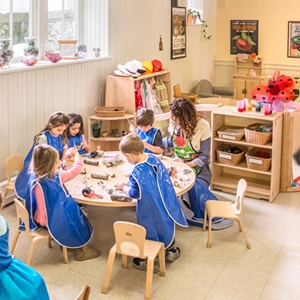 Room Design: A Persuasive Argument
Posted by:
November 1, 2022
A Community Playthings Case Study
The church basement was less-than-ideal. It had, in fact, been previously used as a bowling alley. Could it possibly be transformed into a magical space for play and learning?
Armed with passion and imagination the director and staff at Millbrook Preschool in upstate New York faced this challenge. They envisioned spaces that would "beckon children in," appealing to their need to climb, build, socialize, and create. "As educators, we always have to be willing to adapt, rethink, and reimagine until we get it right," states former program director Maureen Sarma. "We have a moral imperative to make this a wonderful first learning experience for children."
With help from Community Playthings room planners, this vision became a reality. See how it turned out here.