Caring for Old Friends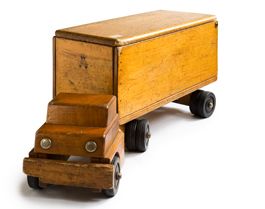 You already know that Community Playthings products last for decades. We recommend a regular program of maintenance for keeping your products strong and beautiful. The Product Guide, which can be found on the Product Support tab, will supply specific maintenance suggestions for each product.
Is something broken or missing? Replacements parts, also on the Product Support tab, are available through customer service, often at no cost.
Caring for unfinished wood, like Unit Blocks:
Scrub with a stiff brush and mild detergent and water. Work quickly to avoid soaking the wood. Wipe off excess water and allow to dry thoroughly before next playtime.
Caring for finished wood with a clear finish like shelves, chairs, doll furniture:
Community Playthings uses a clear non-toxic finish, safe for children. Daily grime should be cleaned off with a mild detergent and damp cloth, do not use excessive water. If the surface becomes tacky, consider refinishing. To refinish, lightly sand the entire surface, you don't need to remove all the old finish. Then, following the manufacturer's instructions, apply one or two coats of a childsafe varnish, using a brand you trust.
Caring for wheeled toys like trikes and trucks, and casters on other furniture.
Bearings (points where wheels revolve around axles) need a drop or two of oil once a month. An even better lubricant is powdered graphite. Squirt a bit onto wheel bearings or ball bearings of casters. Wheeled toys will stay quiet and smooth-running for years with this care.
Caring for carpeted items:
Our carpets are made of stain-resistant nylon fiber. Vacuum carpets frequently. Lift the carpet and shampoo with carpet cleaner, then replace the carpet when it is dry. For stubborn stains, refer to your Product Guide.
Caring for Outlast products:
Community Playthings Outlast items turn a natural grey color as they age. This does not affect the life of the product. If you prefer the original look, you can re-stain your items. For information about Outlast refinishing stain call 800-777-4244. Re-staining instructions
Cleaning and disinfecting
Wooden products are best cleaned without excess water. Use warm soapy water, wipe with a wet rag and then wipe dry. Where disinfecting is indicated, the widely recommended bleach solution is generally safe for Community Playthings products.
Something need fixing? Our replacement parts service is available to keep your equipment up and running. Give us a call, 800-777-4244. It's helpful to have the serial number or ID code from the product when you call. For older items, not covered by the warranty, we are usually able to supply common replacement parts if the design has not changed significantly.