Article
The Return of Play
|
July 2017

Recently I saw four boys, ages eight or nine, playing outdoors at dusk on a small street in Baltimore. It was wonderful to experience again the sights and sounds of children freely playing. Most astonishing was that there were no adults visible. In my childhood this would have been such a common sight that no one would have commented on it. Now, I felt like a birdwatcher that had spotted a rare—but fortunately not extinct—species.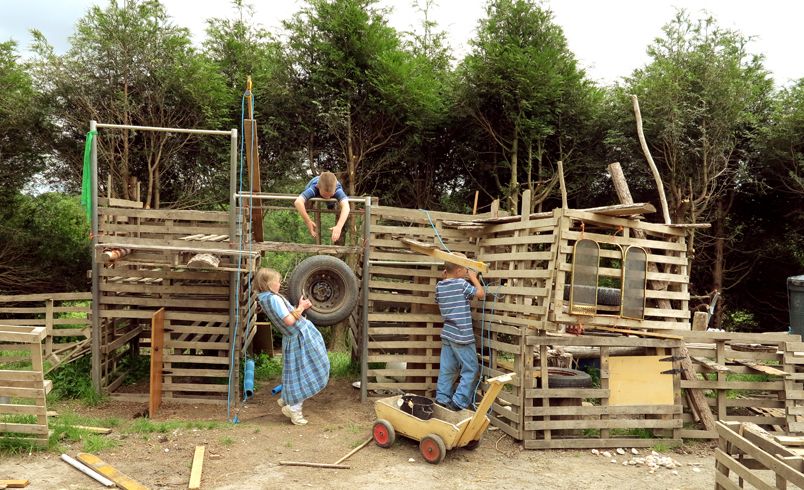 Although it's still unusual to see children playing outdoors on their own, there are more and more opportunities for them to play in parks, neighborhoods, schoolyards, and adventure playgrounds under the watchful eyes of playworkers and other supportive adults. After two or three decades of steadily declining free play, play is on the rise again thanks to the dedication of play activists across North America and parents who recognize that their children need to play.
Many of these activists have written about their projects in a new book, recently published by the Alliance for Childhood. It is called Playing It Up–With Loose Parts, Playpods, and Adventure Playgrounds. As editor, I was inspired by the commitment and insights of the authors who are making huge sacrifices to reestablish play in their communities. The book is filled with photos that help tell the story of the delight children experience when they play creatively with open-ended materials, called loose parts, and build structures with planks, hammers, and nails.
A changing attitude towards play on the part of the public is also fueling its resurgence. A decade ago one frequently heard that play had become a "four-letter word". I rarely hear that now. Rather, when I tell people that I'm engaged in restoring play to children, they light up and speak of how important that is. Then they speak wistfully and say, but what about us adults? We need to play, too. That is so true, and the deep-seated urge to play remains in us our whole life-long.
Fortunately, there are a number of groups advocating for play. The U.S. Play Coalition encourages play across the lifespan and is steadily gaining ground. There are other groups actively supporting play as well. The newly formed North American Adventure Play Association works to advance adventure play and bring together activists across North America through its conferences and Facebook presence. Also, the US and Canadian branches of the International Play Association (IPA) work to advance play. The Canadian group will host an international conference in Calgary in September 2017, the first such conference to be held in North America.
Parents play a vital role in restoring play. Surveys show that parents want their children to play more but are not sure how to bring that about. The world feels unsafe, although statistics show a significant decline in crime rates. When an unfortunate event does happen, the media cover it so extensively that parents cannot imagine letting their children play outside unsupervised.
The new play initiatives are successful, in part, because there are adults present who know how to support children's play with as little interference as possible. This satisfies the fears of the parents while assuring that children can choose and direct their own play. The playworkers in the UK provide a model for such an approach to play. There are thousands of playworkers in the UK who have certificates or college degrees in playwork. They know a great deal about play and are committed to providing children with opportunities for play, while holding back so that children can take charge of their own play. There is growing interest in playwork in North America. Bloomberg University in Pennsylvania now offers a minor in playwork in conjunction with a British university that offers undergraduate and graduate degrees in playwork. The North Carolina Zoo offers a three-weekend introduction to playwork, and Pop-Up Adventure Play offers an intensive on-line training with mentors who work with each student.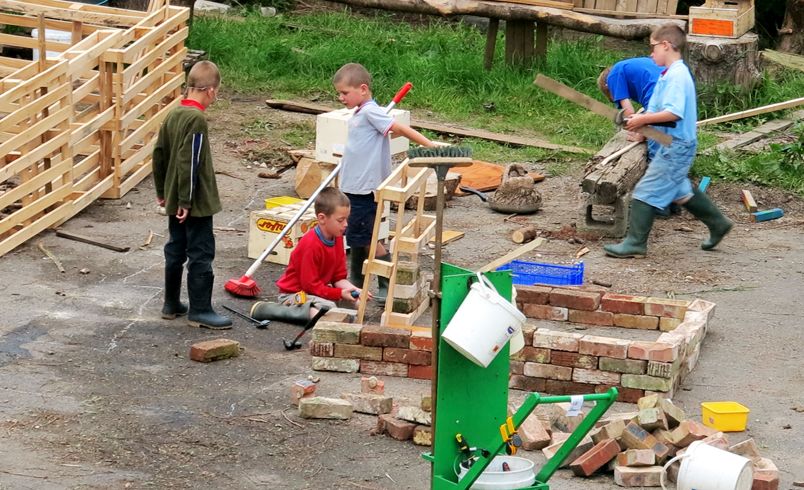 Pop-Up Adventure Play has helped fuel the new play movement in a variety of ways. They provide online toolkits and advice to community groups who want to restore play. Many begin with Pop-Up Adventure Playgrounds, which are single day events, usually run by volunteers who provide loose parts like cardboard boxes, cloths, ropes, tubes, and more. Children come by the dozens and play for hours. Parents are often astonished at how well their children can play and how deep their concentration is.
Communities build on their playdays in various ways. Sarah Lawrence College's Child Development Institute, located just outside New York City, has organized dozens of pop-up play days. Most were located in low-income communities. These playdays provide a wonderful service to children and introduce college students to play and playwork, for they help run the pop-ups.
In Providence, Rhode Island, Janice O'Donnell organized a summer program in seven inner city parks, where her PlayCorps staff made loose parts available for several hours each day. They teamed up with the local parks department which serves free lunches to the children, a program available in many US communities and funded by the Department of Agriculture. When the play project began, the lunch programs were underutilized, but with the introduction of play opportunities, the participation levels soon doubled and tripled.
Another approach is to provide loose parts on schoolyards, storing them in sheds called "playpods." This, too, has been inspired by a project in England where hundreds of schools now have playpods filled with recycled materials. For delightful videos on the British project, search the internet for scrapstore playpods.
In a variation on the playpod approach, Kristin Shepherd in southern California transformed her van into a rolling playpod. She contracts with schools and child care programs to bring loose parts to their sites for play sessions, an approach called play ranging.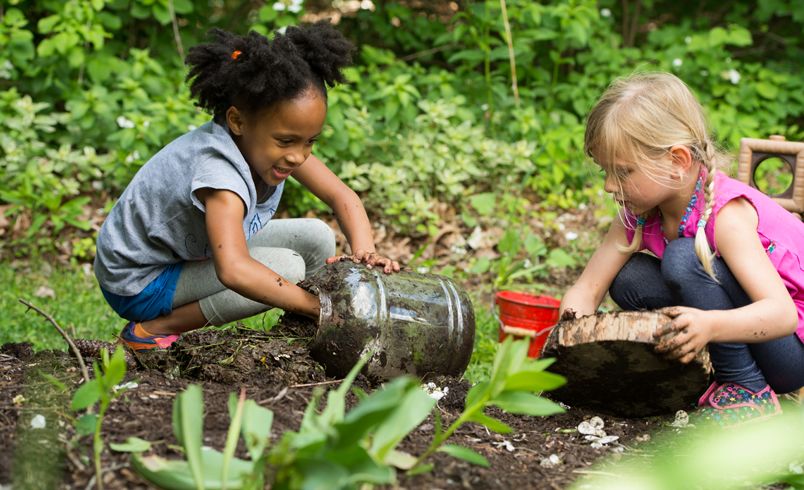 Most of the play projects make recycled materials available to children, but others put their focus on nature play with natural materials—tree climbing, building houses and forts with stumps and branches, rocks and shells. Playing with sand and water is a great favorite, as are mud puddles and mud cafes. Natural play projects can be found in nature centers, local parks, and even one national park, and several are described in Playing It Up. They are part of a wider movement for nature play that includes dozens of outdoor kindergartens as well as initiatives by environmental groups to reconnect children to nature. Playing outdoors has always been an essential part of how children bond with nature, helping them later become environmental stewards.
Many of the play projects have a goal of creating an adventure playground, such as the one in Berkeley that is now over 30-years-old. Adventure playgrounds have abundant loose parts and playworkers to support the children's play. In the US they are "destination" playgrounds where children are brought on wonderful occasions. But in the UK they are often situated in lower-income neighborhoods, and children come on their own. Their adventure playground becomes a second home to them. They arrive after school and are often served a light meal cooked over an open fire. I have visited one in London in January where the day is dark by five, and the children only arrive at four when school is over. They warm themselves at the fire and play under the lights, stopping for a hot snack, such as baked potatoes or chili with a warm drink. It's a relaxed atmosphere, and the children are as warmed by their relationships with the playworkers as they are by the fire, food, and drink.
As part of the current wave of play in the US, several new adventure playgrounds have opened in Ithaca, New York City, Omaha, and Mercer Island (by Seattle). Several more are in the planning stage. Fortunately, the number of activists and their play projects keeps growing, and at this rate the landscape of play will be much richer and more fertile in five to ten years than it is now.
While the return of play continues to grow in individual communities, there is a need to develop the movement as a whole. It would be a great help, for instance, if playwork trainings in the US could offer certificates or degrees from Universities, and if parks departments and others would establish adventure play programs with trained playworkers on hand. There is also a great need to enhance play during school recess and in after school programs. Playpods with loose parts on school yards, overseen by staff trained in the principles of playwork, could offer millions of children a daily experience of creative play. And, as always, sufficient funding is needed to help the play movement grow and thrive. There are many challenges, but in the current spirit of play, all seems possible.
Topics
Advocating for Young Children, Importance of Play, Benefits of Outdoor Play