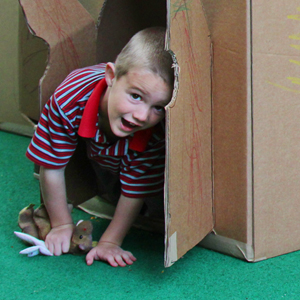 An Empty Box
Posted by:
November 3, 2015
A cardboard box may appear empty to an adult but, for a kid, it is actually filled with possibilities! Simply getting inside an empty box can transport children to new spheres of creative play. Armed with only their imagination, a child can transform a box into a spaceship, house, cave, train, or ship. In fact, the cardboard box is such a popular and versatile plaything that, in 2005, it was inducted into the National Toy Hall of Fame.
Because boxes foster so much learning, creativity, and discovery through play we include at least one with every shipment! And because our furniture comes fully assembled, many of the boxes are BIG!
What do you do with your "empty" boxes?