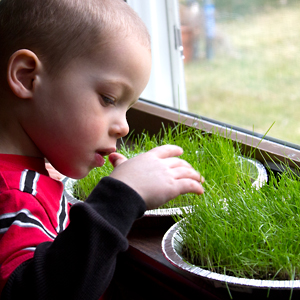 Posted by:
March 22, 2016
Unlike adults whose emotions are often tied to distant happenings and events, a child's universe is so immediate that even the smallest thing can inspire enthusiasm. Hence, spring—with all its abundant transformations that a child can touch, smell, hear, and see—is one of the most stimulating seasons of the year.
Our 3-year-old class got a head start on spring this year by planting grass seed in pans of dirt. With mounting excitement, they watched the fresh green blades shoot up right on their window sill.
If you haven't planted seeds yet with your class, you'll soon want to. Marigolds, planted now, will be blooming in time for Mother's Day. As you wait to see what happens to the seeds, here is a simple song with actions you can learn to extend the experience through music.
A little seed for me to sow,
A little earth to make it grow,
A little hole, a little pat,
A little wish, and that is that.
A little sun, a little shower,
A little while, and then . . .
A flower!
Watch and listen to the song here.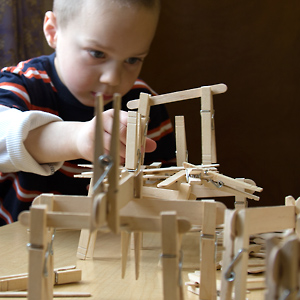 Posted by:
March 15, 2016
The best part about the concept of loose parts play is that it is so simple. It doesn't take much to invite and sustain creative, focused play—sometimes just offering a different combination of everyday materials will open up unexpected levels of exploration and fun.
Do you have any clothespins in your classroom? What about popsicle sticks? Our PreK classroom combined the two for a highly captivating table-top activity. Something about the way a clothespin opens and closes is almost addictive to kids. After some trial and error, they discovered how to use the clothespins to connect, balance, and hinge the popsicle sticks into amazing structures and formations.
Besides being a fantastic engineering activity, playing with clothespins helps develop fine motor skills. Finger strength and control is needed for a lot of the basic skills a child needs to master such as learning how to write.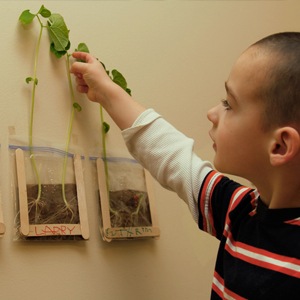 Posted by:
February 16, 2016
What's the best way to understand how a seed turns into a plant? Watch it happen!

To do this project you will need a zip lock bag for each child, dried beans, and paper towels. Insert two damp, folded paper towels into the bag. Place a few beans in the center and hang in a warm, well-lit place.
This is a fantastic way to observe the process of germination. While dry, the bean is completely dormant, but as soon as it has water and warmth amazing things start to happen. Watch here.
Our Pre-K learned a lot about growing seeds from doing this activity. Some of the kids chose to hang their bags on the window, but it was too cold—nothing happened! Some kids over-soaked their paper towels and the beans started to grow mold and didn't germinate. Once the plants had leaves, the ones hanging on the wall started to turn yellow, so they had to get moved back to the window for more light. How long will the beans continue to grow without dirt? We still have to find out.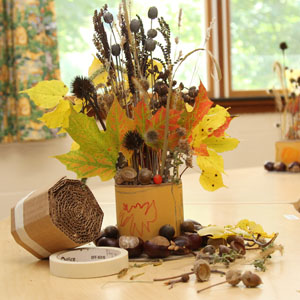 Posted by:
October 13, 2015
When your children can't resist gathering dried weeds, grasses, seedpods, and colored leaves on your autumn walk, here's an attractive way to display their collections:
1. Cut a long strip of corrugated cardboard about 2" high with the ridges running up and down.
2. Roll the strip into a tight cylinder.
3. Hold the roll together with a rubber band or fasten with tape.
4. Decorate with paper, paint, felt pen, or crayon.
5. Insert the stems of your collected nature items into the holes made by the ridges of the cardboard.
This activity stretched out for over a week with our Pre-K class. Each day they found more treasures to add to their natural arrangements. Some beautiful fall leaves were the final touch before they proudly took their baskets home for a unique and beautiful autumn table centerpiece.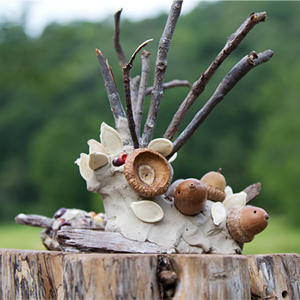 Posted by:
September 15, 2015
Most children, when given a piece of clay, are immediately motivated to explore its inviting sensory qualities. Like water and sand, clay has a natural open-ended appeal and provides an inspirational break from using markers, crayons, paint, or other art mediums. Children delight in the freedom to manipulate and transform their creations: a simple coil can become a snake, then a bowl, then a bracelet!
Now, add natural loose parts to your clay activity to open up even more creative possibilities! What creature can you make from a lump of clay and some natural materials?
I tried this activity with both our three and six-year old classes, with highly successful, though rather different results. Both groups were completely absorbed working on their masterpieces for over an hour! You can enjoy the pictures (and instructions) here.