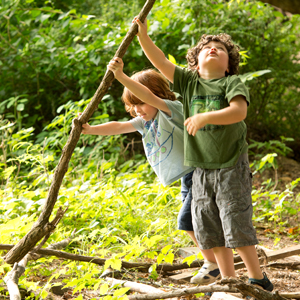 Posted by:
April 19, 2016
Longer school days, more homework, urbanization, organized sports, and daily access to technology. . . . we all know the statistics: children are spending less time in nature than ever before. Studies confirm that kids now spend up to 90% of their leisure time inside. Sadly, many schools contribute to this trend.
"We don't place the proper value on time outside, time without intentional goals or structured expectations," writes Lauren Maples, founder of Bija School in Brooklyn, NY. "This is robbing our kids of joy and challenge—both such meaningful parts of life."
"Unlike a structured school day, the routine of home life, and sports, there is no telling what one will encounter outside. Whether it is crossing a stream, building a fort, or figuring out how to scale a rock, time in nature helps kids figure stuff out. When kids learn to problem solve in situations that are fun and spontaneous they are able to carry those skills into their schoolwork and daily life."
Time in nature is not just a luxury; it's a very important educational platform which every teacher and parent should embrace. How and where should you begin? Read more.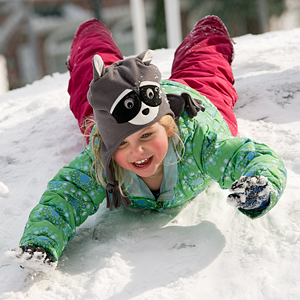 Posted by:
January 12, 2016
Chilling temperatures, gray skies, bitter winds—no wonder many of us are tempted to stay indoors during the winter months. Yet this season is an exhilarating time of year to venture out with your children. There's a myriad of winter enjoyments missed if you hibernate inside: Crunching through frosty grass, exhaling "dragon smoke" into the freezing air, following animal tracks in the snow, or sliding down a hill. Fresh air, sunlight, and physical activity—even if only for short periods of time—have countless benefits for children.
"There's no such thing as bad weather, only the wrong clothes", is the often quoted mantra of forest kindergartens, where children play outdoors all year round. Appropriate footwear and warm, waterproof clothing are key to being able to safely relish wintry weather.
So bundle up the kids and head outside! Here are ten winter activities that will get their hearts pumping and their cheeks glowing:
Read on
.
Posted by:
October 6, 2015
"Look! The leaves are waving goodbye!" a young child exclaimed as her class left the park. "Let's wave back!" encouraged the teacher, playfully responding to the observations of the child.
This creative response probably did more toward deepening the child's emotional connection with nature than a scientific explanation would have done. "It isn't always necessary to be scientifically accurate in how we respond to children's observations and questions," writes Ruth Wilson. "In fact, it would be a mistake to overlook or discourage children's special way of seeing the world."
Without doubt, the natural world provides the best resources for teaching science and scientific inquiry. But we should remember that all areas of a child's life are enriched by daily connections to the natural world, not just academic learning. "We know that children need more than knowledge and facts to become whole or to reach their potential as human beings. They also need a sense of purpose, positive self-identity, wonder, and joy."
Especially in school settings that seem void or barren of nature, how can teachers do more to establish lasting emotional connections with natural world? Read the article.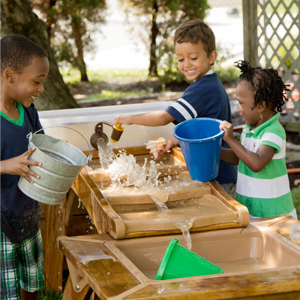 Posted by:
September 29, 2015
If a picture is worth a thousand words, then seeing something in action is worth immeasurably more!
Here, finally, we can show you our new Water Play system at its best—operated by a group of industrious little engineers completely absorbed in their play and exploration.
Get ready for a waterfall! Watch now.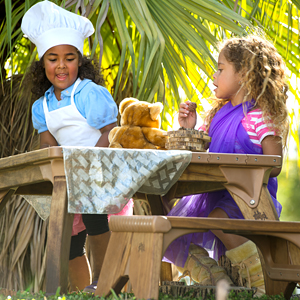 Posted by:
July 7, 2015
Picnics are fun, but that's just the beginning of what you can do with an outdoor table. Instead of considering tables and benches as static outdoor furniture, try imagining their possibilities as loose parts or props for creative and dramatic play.
What could that look like? Watch this.