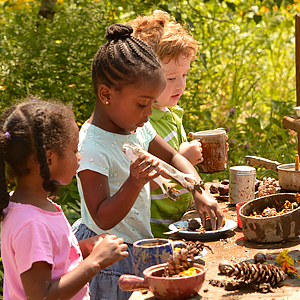 Setting Up Your Mud Kitchen
Posted by:
June 26, 2018
"It's mud season again and good things are being made," writes Mary Rivkin. "How about a chocolate mud pie, decorated with yellow dandelions? Or a luscious cupcake sprinkled with sand and cherry petals?"
Concocting recipes with nature's abundant materials has been a staple of childhood play for generations. Such play opportunities are increasingly rare for today's children, prompting many educators to create "Mud Kitchens" in their outdoor spaces. Need some advice in setting up your Mud Kitchen? Read Rivkin's article now.
June 29 is International Mud Day—don't forget to celebrate with some mud pies!